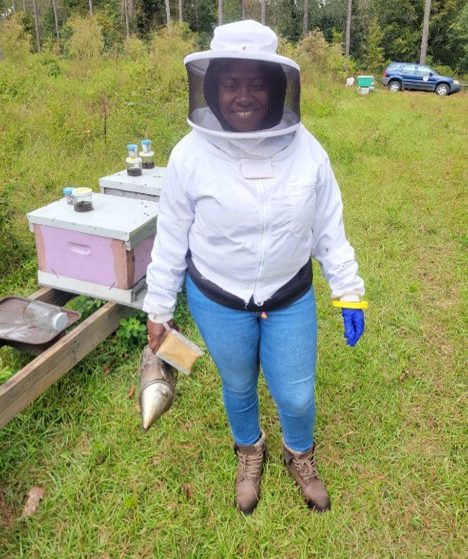 Donna Arnold is the Small Farm and Residential Horticultural Agent for the Gadsden County since January, 2022. Her main role as an agent is to provide educational programs, related to sustainable agriculture to farmers in Gadsden County north Florida. These programs in small farms and residential horticulture include: best management practices, production, harvesting, marketing, and sustainability issues. In addition, she will provide direction and leadership for the Master Gardener Program also in the County.
Donna holds a Master of Science Degree in Entomology form Florida Agricultural and Mechanical University (FAMU). In her research she examined the prevalence of Solenopsis invicta virus 3 (SINV-3) in fire ant alates collected in north and central Florida. Previously, she was employed to the Oberlin High School Kingston via Ministry of Education Youth and Culture in Jamaica for over 20 years where she was an Agricultural Sciences teacher and the Head of the Agriculture Department. Her job duties involved managing the school tutorial farm and supervision of members in the agriculture department. She also participated in many on the job trainings and earned certificates in the field of Agriculture and was a part of the National 4-H clubs.
Her experience in Agriculture began at an early age; she was raised in a small farming community in East Rural St Andrew, nestled in the blue mountain regions of Jamaica. Farming was the main source of income there – Coffee and vegetable crops predominately grown. Since agriculture was embedded in her from a tender age, this act as a catalyst to propelled her to learn more about the pedagogical aspects. Donna's formal agricultural experience began at Elim Agricultural School, now known as Sydney Pagan Agricultural School, where she was awarded a certificate in General Agriculture.
She later worked in extension with Rural Agricultural Development Authority under the Ministry of Agriculture. During her tenure she saw the need to upgrade educationally to better served her farmers in rural communities, therefore, she pursued an Associate of Science degree in Agriculture (ASc.), and a Bachelor of Technology in Food System Management and Agriculture Production (BTECH) respectively, at the College of Agricultural Science and Education (CASE). After which, she pursued a Diploma in Teacher Education at the Short wood Teachers College.
With the knowledge and skills garnered this led to her understanding that agriculture plays a vital role in food security because she believes a country is not independent until it can feed itself. It was always Donna's intention to continue working in Agricultural extension, there she believes she can make a positive impact on farmers lives since they are the drivers of food production.
During her spear time one can find Donna tending plants, working with honey bee research and, watching home and garden television series. Her motto is "attitude is a little thing that makes a big difference" by Winston Churchill