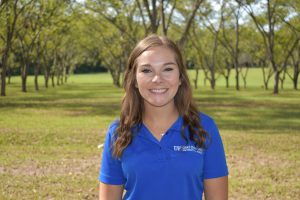 Danielle Sprague is the Agriculture and Natural Resources Extension Agent in Jefferson County, Florida and has been for almost three years. Danielle is originally from the land of Indian River Grapefruit, otherwise known as Vero Beach, Florida! Her Extension program areas include Agriculture, Horticulture and Natural Resources.
As a young girl, Danielle always thought she would be a nurse. She always wanted to help others and make a difference in her community. It wasn't until she was exposed to the agriculture industry through 4-H in high school, did she realize there were other avenues to do so. With a newfound appreciation and passion for the agriculture industry, Danielle changed career paths completely.
She went on to earn her Bachelor's degree in Agriculture Studies from Warner University in Lake Wales, Florida. While at Warner University, she completed internships at the UF/IFAS Citrus Research and Education Center as well as with Dow AgroSciences. Following that, she earned her Master's degree in Entomology from the University of Florida where she worked as a Graduate Research Assistant at the UF/IFAS North Florida Research and Education Center in Quincy. She considers her current position as an Agriculture Extension Agent her dream job.
When she isn't working, Danielle enjoys boating, fishing, hunting, camping, visiting different agritourism operations, pretty much anything outdoors! She also enjoys cooking and baking.
Latest posts by Danielle S. Williams
(see all)