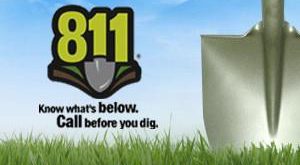 Call 811 before you dig.  No one wants a weekend project to be the cause of internet, phone and cable outages. Worse yet, what if someone gets hurt from contact with natural gas or electrical lines?  That's why it is so important to have buried utilities in the yard located and marked before digging.  Sunshine 811 coordinates each individual company to clearly mark where the service lines are located.  Homeowners are required by law to contact 811 three days before any soil removal is done.  The service is free.
Have information prepared before making the request.  Describe the work to be performed (e.g. fence install, landscaping, irrigation install), including the type of equipment that will be used. Specify the exact location on the property and how long the work will continue.  Finally, provide all the contact information (e.g. name, phone number, e-mail), should there be any additional questions.
Call 811 or request a single address ticket online.  Receive a ticket number and wait two full business days, not counting weekends or holidays.  Then contact 811 again.  Make sure that all the utilities have responded in the Positive Response System (PRS).  Sometimes that may mean that the company doesn't have anything to make in the area.
If there are utility lines running through the yard, they will be marked with specifically colored paints or flags.  Red is used for electrical lines, orange indicates communication lines, yellow means gas, blue is used for potable water, purple is reclaimed water, and green indicates sewer lines.  White lines may be used to outline digging areas and pink are temporary survey marks.  This is the APWA Uniform Color Code.
Every effort is made to locate the lines as accurately as possible.  But, the safest thing to do is hand dig to expose the utility line before using any mechanized equipment.  Lines can vary up to 24" from the marked line and depths can be less than 5".  Remember there may be access lines running through the property even if that service isn't utilized at that address.
Keep safe this spring.  Call 811 before digging.
Latest posts by Sheila Dunning
(see all)