Every so often while I am enjoying a walk through the garden, I notice a growth pattern on a plant that is just not normal.  One of the more interesting patterns I see is called fasciation.  This is a distortion of plant tissue that often causes flattened, curved, or the thinning of plant tissues.  I recently noticed this on the stem of a Coral Porterweed in the Escambia County Demonstration Garden.  The leaves were a normal shape but several inches of the stem were flattened and curved.
So what is causing this type of growth pattern?
The most common cause of fasciation is usually some type of genetic mutation in the growing points of the plant.  The other possible causes could be a physical injury to new tissues, a bacterial infection, chemical injury, or even an insect injury.  Fasciation will be random in its occurrence and many gardeners may never have it occur on a plant in their yard. I have seen it on both woody and herbaceous plants in my own yard and in the demonstration gardens.
If you see a plant exhibiting this distortion of growth, you don't need to take any action.  If the growth is unsightly to you, prune out the affected plant tissue.  It is probably best that you not propagate material from an affected plant just to prevent any transfer of the distortion to a new plant if the cause is genetic or from a living organism.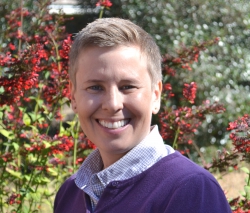 Latest posts by Beth Bolles
(see all)