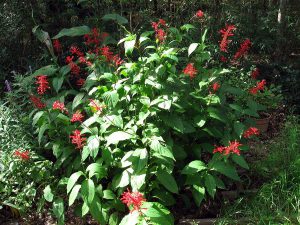 Looking to add something to brighten your landscape this autumn?   Firespike (Odontonema strictum) is a prolific fall bloomer with red tubular flowers that are very popular with hummingbirds and butterflies.  Its glossy dark green leaves make an attractive large plant that will grow quite well in dense shade to partial sunlight.
In frost-free areas firespike grows as an evergreen semi-woody shrub, spreads by underground sprouts and enlarging to form a thicket.  In zones 8 and 9 it usually dies back to the ground in winter and re-sprouts in spring, producing strikingly beautiful 9-12 inch panicles of crimson flowers beginning at the end of summer and lasting into the winter each year.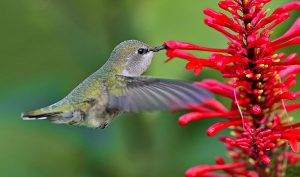 Firespike is native to open, semi-forested areas of Central America.  It has escaped cultivation and become established in disturbed hammocks throughout peninsular Florida, but hasn't presented an invasive problem.  Here in the panhandle, firespike will remain a tender perennial for most locations. It can be grown on a wide range of moderately fertile, sandy soils and is quite drought tolerant.  Firespike may be best utilized in the landscape in a mass planting. Plants can be spaced about 2 feet apart to fill in the area quickly. It is one of only a few flowering plants that give good, red color in a partially shaded site. The lovely flowers make firespike an excellent candidate for the cutting garden and is a "must-have" for southern butterfly and hummingbird gardens.  Additional plants can be propagated from firespike by division or cuttings.  However, white-tailed deer love firespike too, and will eat the leaves, so be prepared to fence it off from "Bambi".
Latest posts by Sheila Dunning
(see all)