With the arrival of spring weather in the Panhandle, many people have begun planning a vegetable garden. However, many gardeners that I talk to tell me more of their gardening frustrations than successes. I surmise the main reason for their frustration is simply doing what gardeners have done across centuries and all over the world, planting in the ground. That's a great strategy in many places; unfortunately, in the Panhandle, we are not often blessed with great soil. We can overcome our poor soil conditions and be more successful by going above ground with raised beds!
Gardening in raised beds has three primary benefits for area gardeners: the ability to control soil conditions, reduce disease problems, and be space efficient.  The first raised bed benefit is the most critical.  Soil in and around much of the Panhandle is sandy in nature with little rich organic matter.  To make matters worse, much of our native soil is either too well-drained and dries out rapidly or is the opposite and frequently stands in water – neither is conducive to garden success.  We can alleviate all the above issues by creating our own perfectly draining, nutrient-rich soil environment inside a raised bed.  One can either make their own soil concoction by experimenting with different ratios of compost, aged pine bark, peat moss, perlite, etc. or simply purchase bagged garden soil.  I use either 100% mushroom compost or a 1:1 mix of mushroom compost & aged pine bark, but many soil component combinations work well.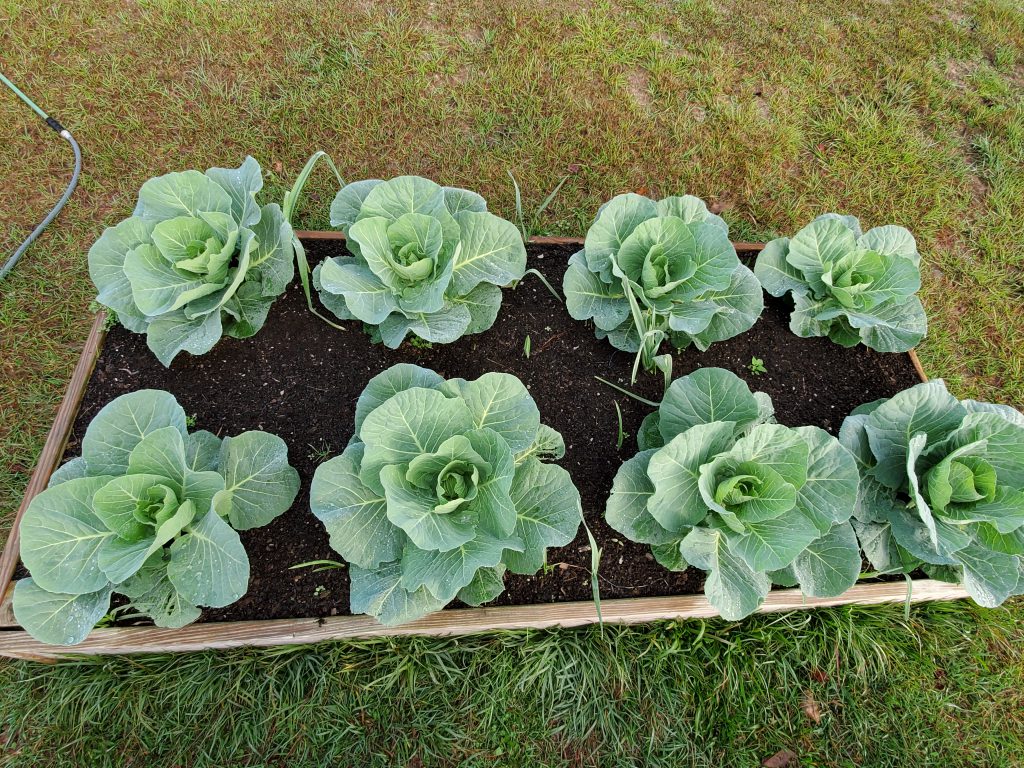 Gardening in raised beds can also dramatically reduce the incidence of disease. Many of the most serious vegetable garden diseases like Bacterial Wilt and Late Blight in tomato are soilborne, surviving for years in the ground and only needing a splash of rainwater to transfer them onto your vegetable plants. Growing in beds with curated soil mostly alleviates this issue. Our sandy soils also tend to have damaging levels of difficult to control nematodes (microscopic round worms that feed on plant roots). Because nematodes prefer porous sandy ground, switching to raised beds with rich organic soils also removes that concern.
Finally, growing in raised bed gardens allows for a very efficient use of space.  A typical raised bed is 4'x8' in diameter, meaning you can site one nearly anywhere, regardless of how big or small your yard is.  You don't even need a yard space in some cases!  If you have only a sunny porch or driveway, you can certainly mimic raised bed conditions with large containers.  Most people are surprised by the amount of produce that you can pack into one or several 32 square foot raised garden beds, especially when you pay attention to plant mature size and group accordingly.  The square foot gardening method is a great way to maximize raised bed produce yield. 
If you have struggled in past years to produce a fruitful, high-yielding, mostly disease-free garden, your problem might be below your feet in the soil.  As you plan your vegetable gardening activities this year, try gardening in raised beds and get ready for your best gardening season yet!  For more information about vegetable gardening, raised bed construction, or any other horticultural topic, contact your local UF/IFAS County Extension office.  Happy Gardening!
Latest posts by Daniel J. Leonard
(see all)