National Pollinator Week (June 19-25, 2023) is an annual celebration in support of pollinator health that was initiated and is managed by Pollinator Partnership. It is a time to raise awareness for pollinators and spread the word about what we can do to protect them. It marks a necessary step toward addressing the urgent issue of declining pollinator populations. Bees, birds, butterflies, bats, beetles, moths, wasps, and flies provide valuable ecosystem services.
One of these important insects is the bumblebee. The American bumblebee has declined by 89% in relative abundance and continues to decline. This is due to many factors, including habitat loss, pesticides, climate change, and disease. In the past 20 years, it has completely disappeared from eight states and has become very rare in many others. Over 250 species of bumble bees occur throughout the world, but only five occur in Florida: common eastern (Bombus impatiens), the most common in the panhandle, two-spotted (B. bimaculatus), brown-belted (B. griseocollis), American (B. pennsylvanicus) and southern plains (B. fraternus). The yellow-banded bumble bee (B. terricola) has not been seen in Florida since 1962. Bumble bees are less common in South Florida and are never seen in the Keys. These are beneficial insects that pollinate many native and ornamental plants.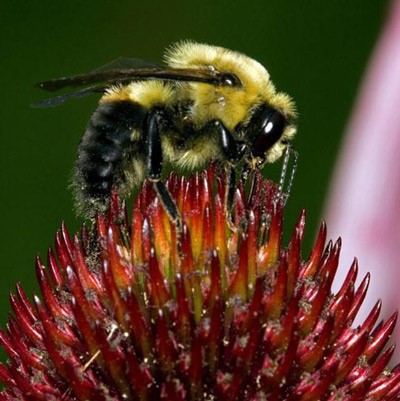 Bumble bees are robust and hairy, and females have hairy pollen baskets on their hind legs. They are usually distinguishable by the color of bands on their bodies. Because they are medium to large in size (around ½" long), bumble bees are easy to identify. There are few other bees as large as bumble bees. Bumblebees have stingers, but they do not typically sting unless they are provoked or defending their colony. Unlike honey bees, the bumblebee's stinger is not barbed, so it is capable of stinging repeatedly. A good key for bumble bee identification can be found at www.edis.ifas.ufl.edu/in207.
Bumble bees are more tolerant of cooler weather than other bees due to their large body size, thick hair and their ability to generate internal heat by vibrating their flight muscles. This allows them to emerge early in spring and remain in our gardens throughout fall. Bumble bees are generalists and visit a wide variety of plants for nectar and pollen. For nectar, they choose flowers that accommodate their species' tongue length.
Preferred wildflowers include thistle (Circium spp.), tickseed (Coreopsis spp.), blanketflower (Gaillardia pulchella), Penstemon spp., dotted horsemint (Monarda punctata), Spanish needle (Bidens alba), goldenrod (Solidago spp.), sunflower (Helianthus spp.), ironweed (Vernonia spp.) and many others.
Most bumble bees are ground-nesters and often use existing cavities such as abandoned rodent burrows. They may also use leaf litter, wood piles or tree cavities as nest sites. They nest in colonies of 25 to 400. Most will die at the end of the summer, leaving only a few mated queens, which hibernate through winter and emerge in spring to form a new colony. In the span of a year, there may be several generations of workers and males serving a single queen.
Bumble bee populations have been in decline for several decades because of habitat loss, pesticides and diseases. Pollinators are dying because their food and homes are disappearing, diseases have increased, and rising temperatures and natural disasters are affecting their ability to survive – all of which are related to climate change. At the same time, the conservation of pollinators and their habitats can help combat climate change by supporting healthy ecosystems, air, soil, water, and plants. Combined, these results make planet earth a safer place for us to live. These are big problems and the efforts that are made around North America and globally during Pollinator Week can help provide real solutions for the pollinators we all love.
The great thing about Pollinator Week is that you can celebrate and get involved any way you like! Popular events include planting for pollinators, hosting garden tours, participating in online bee and butterfly ID workshops, and so much more. Additional information can be found at www.pollinator.org/pollinator-week or by contacting Pollinator Partnership at info@pollinator.org. Utilize these resources to help you celebrate and promote your involvement.
Latest posts by Sheila Dunning
(see all)