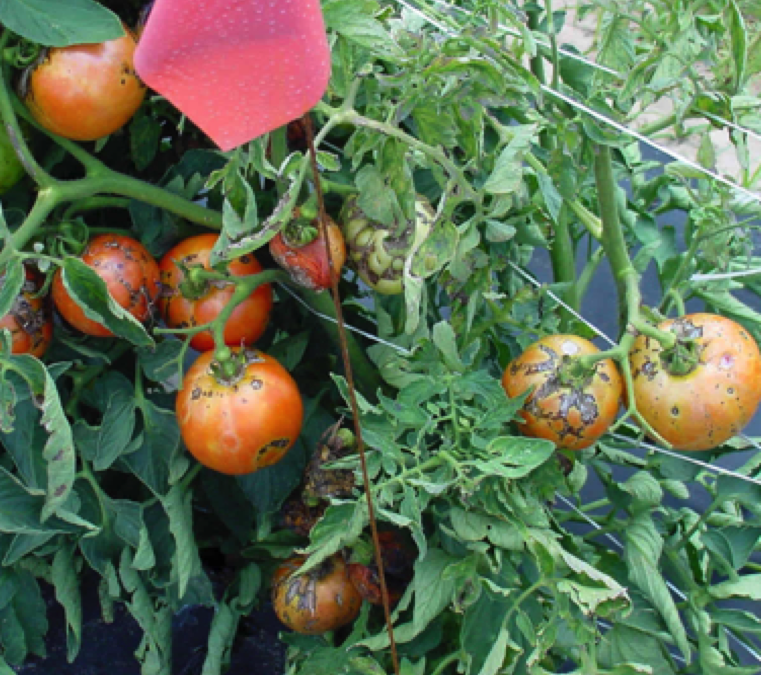 It is late-February, so the spring growing season is just around the corner. Now is the time to be thinking about which tasty tomatoes you want to plant in your home garden!  Although tomatoes are a favorite kitchen staple, they prove challenging to grow in the Florida Panhandle climate.
While many tomato diseases can kill plants, damage fruit, and reduce yields, genetic resistance or tolerance to select diseases exist. The following are three of the most common diseases and viruses home gardeners face, for which resistant and tolerant varieties exist.
Tomato Spotted Wilt (TSW) is a viral disease which is transmitted by thrips, a species of insect that is very small and not always visible when checking the garden for insect pests.  They love to feed on the sugary juices of the tomato flowers, and while feeding, they have the opportunity to transmit the virus through their piercing and sucking mouth parts. Lots of different symptoms may occur with TSW. Initially growers will notice light or dark brown spots on leaves of affected tomatoes, next wilting or stunting will occur, along with brown or purple streaks on the stems. Finally, fruit will exhibit unsightly brown rings throughout. The good news is that home gardeners can get a head start on this disease by planting resistant cultivars. When shopping for seed or transplants, growers should look for plants listed with the codes TSW or TSWV, because these have demonstrated resistance to Tomato Spotted Wilt Virus.
Another viral disease often found in the tomato garden is Tomato Yellow Leaf Curl (TYLC) Virus. TYLC first appeared in Miami in 1997 and was brought to Florida by infected whiteflies. Much like TSW, TYLC is spread from plant to plant by feeding whiteflies. As the name indicates, TYLC symptoms include curled leaves and stunted growth. Infected plants produce little to no fruit.  Strategies to reduce the possibility of virus transmission to the garden include reducing the population of weedy plants, which may harbor whiteflies. Fortunately, resistant cultivars are available in plant catalogs, and are denoted by TYLC to indicate resistance.
Fusarium Wilt is one of the oldest diseases to affect tomatoes in the state of Florida and is caused by the fungal pathogen Fusarium oxysporum f.sp. lycopersici races 1, 2, or 3. This pathogen is often present in regional soils and moved by wind. Once it enters the roots of tomato plants, fusarium wilt proliferates and clogs the vascular system, much like a clog in the plumbing of a building. Thus, the primary symptom is the wilting of the plant, which will first be noticeable on hot days, despite adequate irritation. Once infected, there is no cure, and infected plants should be removed and destroyed to stop the spread. The good news is that resistant cultivars are available to the various fusarium races. They are usually denoted as F-R 1, 2, or 3 in seed catalogs. Additionally, look for plants labeled VFN. These cultivars are resistant to a different kind of wilt, called verticillium, as well as fusarium and nematodes.
Fortunately, the UF / IFAS publication  "Tomato Varieties for Florida—Florida "Red Rounds," Plums, Cherries, Grapes, and Heirlooms" by Monica Ozores-Hampton and Gene McAvoy has provided us with a handy chart of tomato varieties with disease resistance. Codes in the columns indicate disease resistance to specific pathogens. While there is no single tomato variety resistant to all possible disease pathogens, planting different varieties with several different types of resistance will allow growers to hedge against attack by a number of potential disease problems. Some of the more common disease resistant tomato varieties planted in this area are 'Quincy', 'Bella Rosa', 'Amelia', 'Tasti-Lee', 'BHN 602', and 'Volante'.
For a further look at the various diseases of tomato, the EDIS publication "A Series on Diseases in the Florida Vegetable Garden: TOMATO" offers more detail. Another resource UF/IFAS offers for disease diagnosis is the NFREC U-Scout website. U-Scout provides information on more than 40 potential disease issues in tomato. Additionally, any plant disease can be diagnosed through your County Extension Office or by submitting samples to the Plant Pathology Clinic, at the North Florida Research and Education Center, for only $30/sample for basic services.