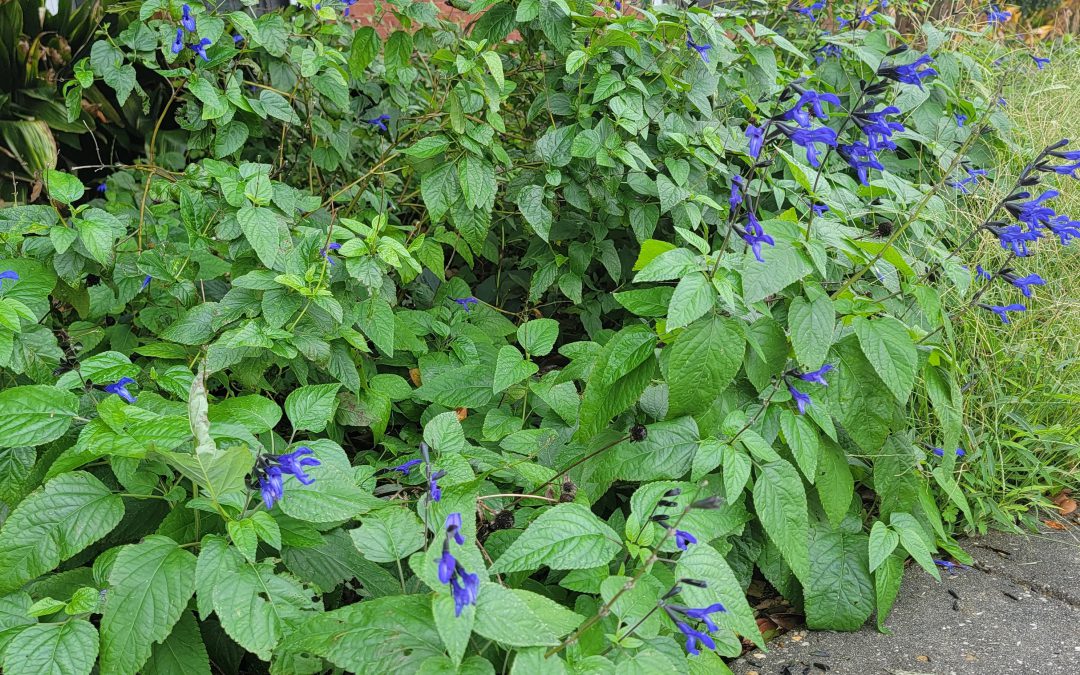 The long summer days are beginning to wane, the mercury is starting its slow march down the thermometer, and your landscape displays all the signs of winter. It's the time of year that many gardeners dread. Fear not, my fellow parishioners of the soil. I'm here to tell you that there is hope for your landscape. With a little planning, your home can remain beautiful as there are blooms aplenty even into the autumn months here in Florida.
Deciduous Trees
Established deciduous landscape plants begin their annual cycle by sloughing off their leaves, but this doesn't mean they have no value. After months of standing boldly in your yard, many begin to lose their chlorophyll and turn eye-catching hues of orange and purple. Trees such as bald cypress (Taxodium distichum) create a fantastic fall display as they march into winter slumber. Maples (Acer spp.) will similarly provide a beautiful show once the cold weather hits. Plant these trees in your landscape while observing the "right plant, right place" philosophy and you will provide a low-maintenance pallet of annual colors for decades.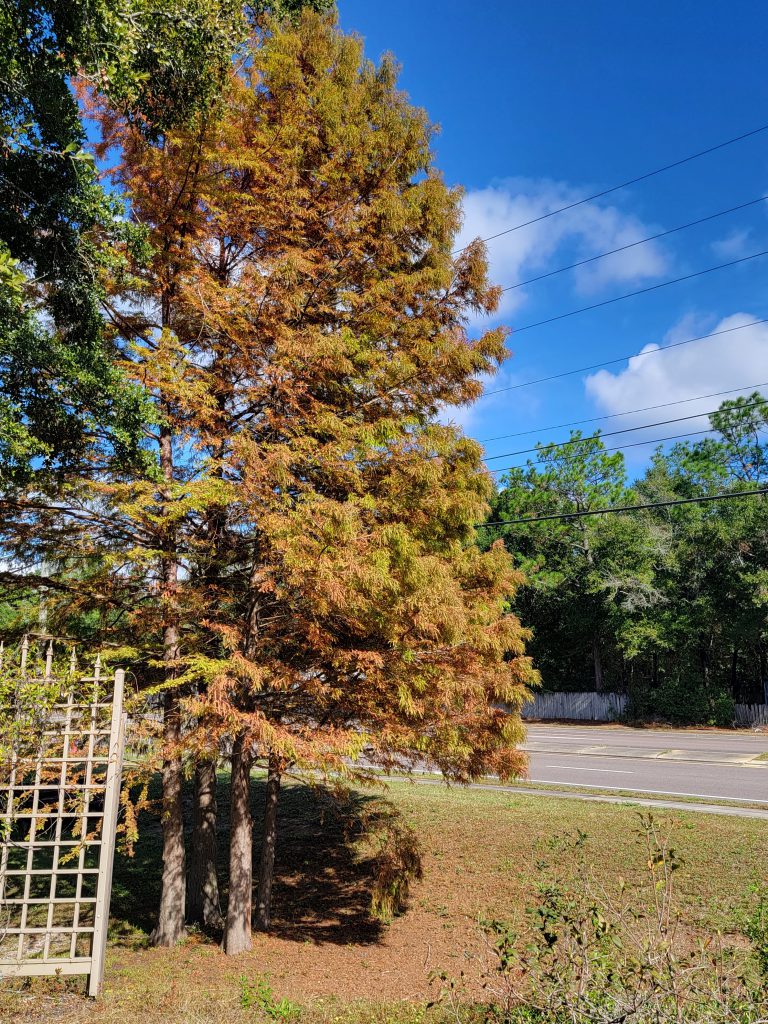 Perpetual Perennials
Next, perennial plants are the lynchpin in many landscapes, filling in the space between your trees and inground annuals. Choosing those with bright, warm colors will make your yard stand out against your neighbors. Remember, when planting, some plants will not survive the first frost. One plant prone to this style of dieback is fire spike (Odontonema strictum). Here, you will find bright red blooms underpinned by large, striking green leaves. Don't be dissuaded by the frost-tender nature of this plant, it is an excellent specimen and supports pollinators later into the season. Salvia (Salvia spp.) is another superb specimen for some color later in the season. This again will die off upon the first frost but, until then, will provide bright flowers with grey-green foliage that is striking in any garden. For those seeking an evergreen autumn bloomer, look no further than the leopard plant (Farfugium japonicum). This sometimes overlooked and shade-loving member of the aster family provides yellow flowers through the fall and unique round leaves throughout the rest of the year.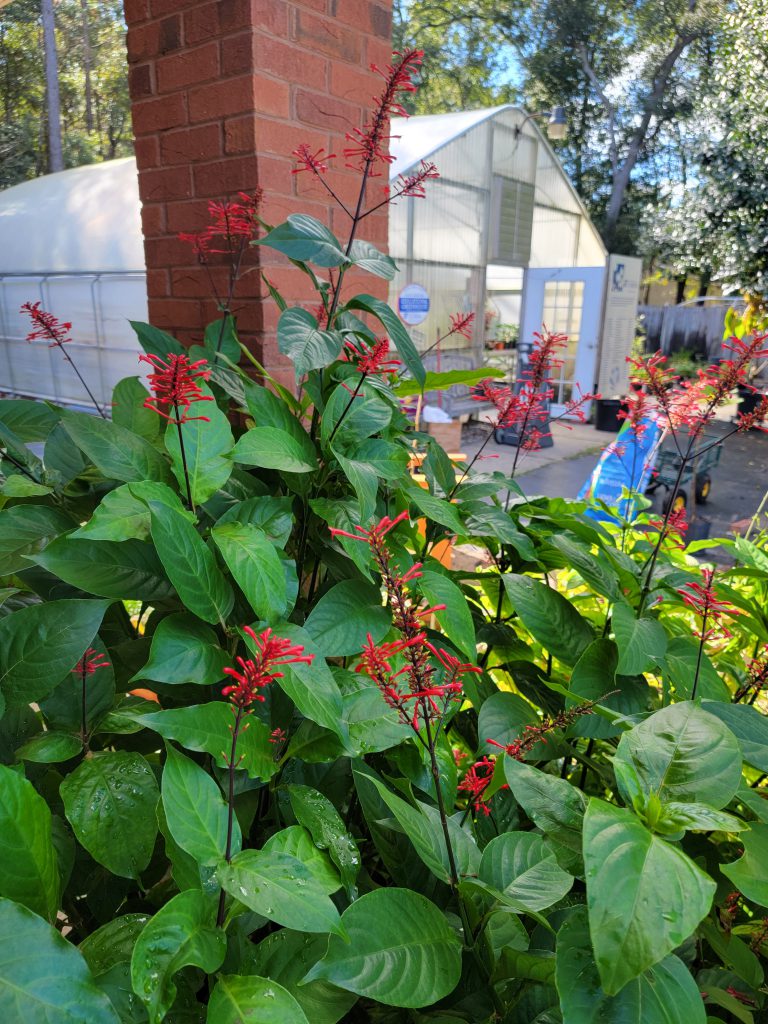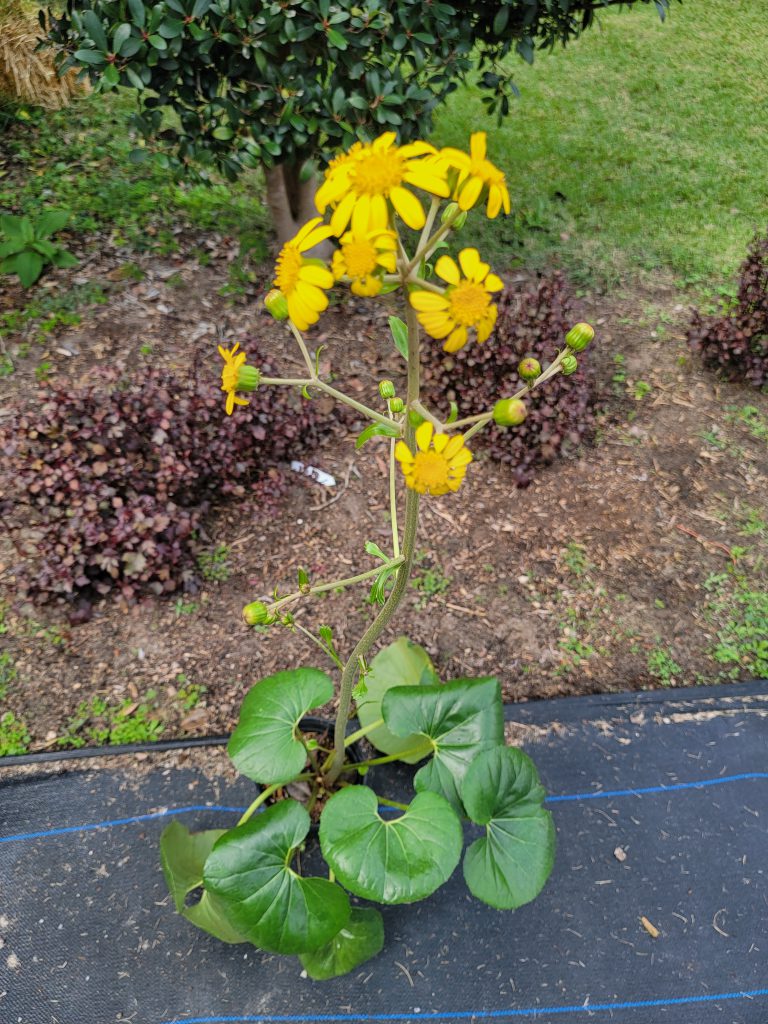 Annuals for Brilliant Color
Finally, let us peruse flowering annuals. The advantage here is the vibrant colors they bring, but they are short lived and will need to be rotated out in a few months. Sweet alyssum (Lobularia maritima) is a prime example of a versatile plant fitting this bill. They have a spreading habit, making them excellent as a cold weather ground cover or a beautiful trailing potted plant hung on your porch. If sprawling isn't your cup of tea, investigate calendula (Calendula officinalis) for a splash of yellow in an upright ray-style flower. Remember that these cold weather annuals will not tolerate heat or humidity, so plant them in the fall when things cool off. They will do well in the ground directly or with a pot-in-pot system. The latter will allow easy switches should the plants begin to falter. If planted directly in-ground, prepare your site accordingly. Soil testing will dictate fertilization needs and adding organic matter will ensure adequate water retention.
Gardening in Florida is always a tough row to hoe. We are fortunate in that we can provide color in our landscapes throughout the year, but to do so one must understand our dynamic environment. Florida will throw you some curveballs, but with a little planning and some understanding you'll be well on your way to thriving gardens. For more information, see this Ask IFAS document for trees, this ASK IFAS for perennials, or this ASK IFAS for annuals. As always, please contact your local extension agent for additional information on this and any topic regarding your gardens and more.