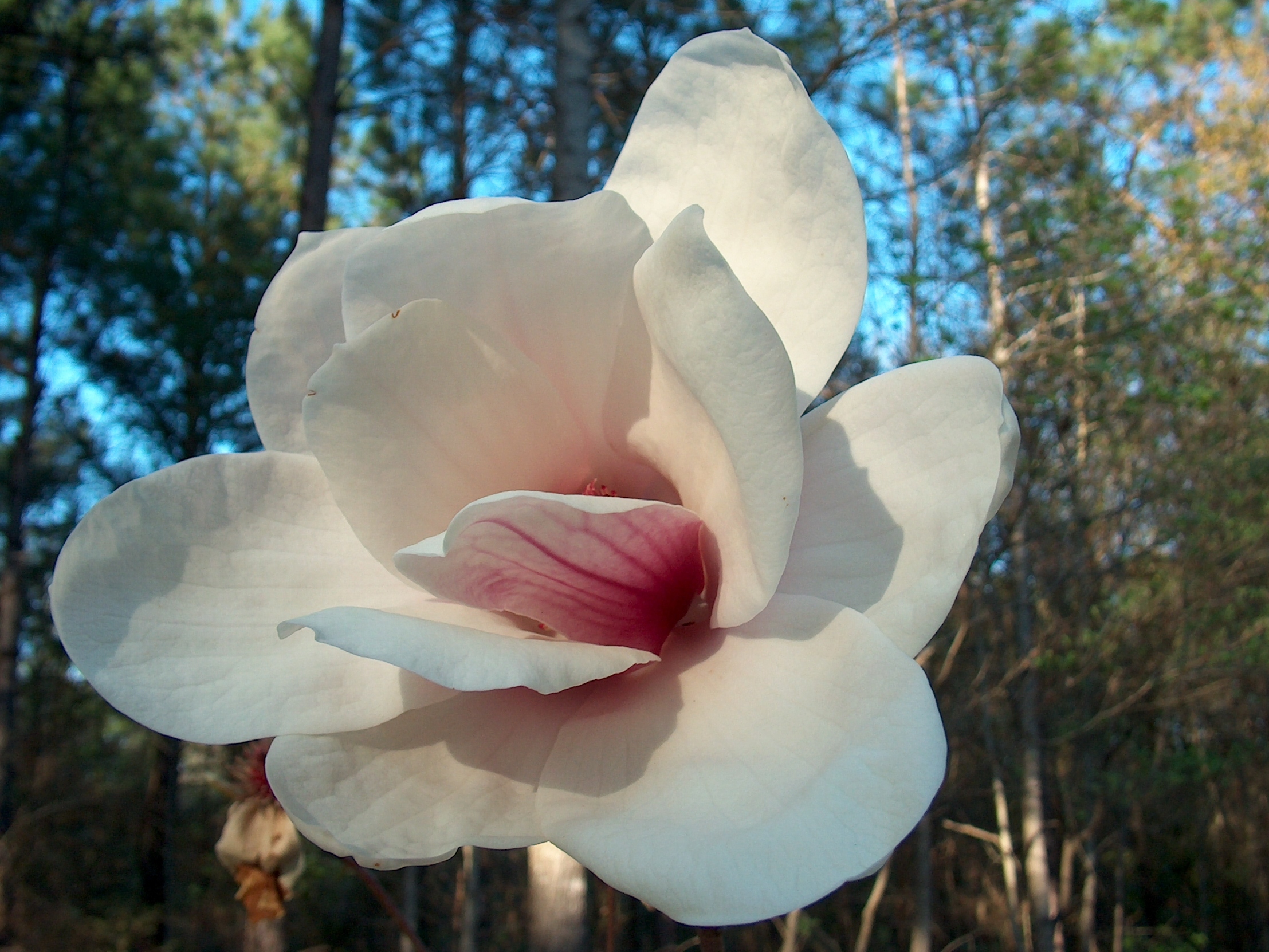 This winter's recurring freezes and frosts have played havoc with early flowering plants like magnolia. While buds are freeze-resistant, open magnolia flowers can quickly turn brown after exposure to temperatures about 30°F or lower. One way to avoid freeze-damaged flowers is to choose later blooming cultivars. These selections have flowers that open in north Florida during late February or later.
The Magnolia Garden at the University of Florida/IFAS North Florida Research and Education Center (NFREC) in Quincy has more than 150 types of magnolias planted. Based on over 10 years of data, five of the latest blooming magnolias are Daybreak, Jane, Betty, Jon Jon and Ann. These cultivars have peak bloom dates ranging from late February (Ann) to mid-March (Daybreak). Thus, they bloom after most flower-damaging freezes.
Daybreak has beautiful, large shell-pink flowers on a small tree. Jon Jon has huge white flowers with a streak of red-purple at the base. These fragrant flowers open goblet-shaped the first day, and then open wider to a cup-and-saucer shape on subsequent days. At NFREC, Daybreak and Jon Jon have about 6 weeks of flowers and grow as single-stem or multi-stem trees up to about 30 feet tall.
Jane, Betty and Ann are sister cultivars developed at the National Arboretum. As you would expect with sisters, they look-alike, and have a shrubby or multi-stemmed tree habit, generally growing about 15 feet tall and wide (much shorter and wider than Daybreak and Jon Jon). All three have upright, cup-shaped flowers in various shades of pink and red-purple. Betty has medium red-purple flowers that are the largest of the three, over 4 inches. Jane has 3- to 4-inch flowers that are medium pink outside and white or pale pink inside. Ann has the smallest flowers (3 inches) but they are also the darkest red-purple. As an added bonus, Ann boasts the ability to produce sporadic flowers all summer long! This results in Ann having an average of 13 weeks of flowers, as compared to Jane's 10 weeks and Betty's 8 weeks.
These five cultivars are generally available at garden centers during spring. Ann and Jane can be found at many "Big Box" stores. All five can be purchased at "good" independent garden centers and, as a last resort, from mail-order/Internet nurseries.
For more information about these and other magnolias, see Florida Extension publication, 'Jon Jon' Magnolia: A Late-Flowering Deciduous Magnolia for Northern Florida, and other magnolia publications here. Also, Magnolia Society International is a great resource with a very informative website. (Note the slide show below of Jon Jon, Ann, Betty, Daybreak and Jane.)
 [portfolio_slideshow id=4059]