The Annual Tupelo Honey Festival will be held on Saturday, May 21st from 9 AM – 4 PM at Lake Alice Park in Wewahitchka. It's an exciting event, and your chance to take part in this local delicacy. Area honey producers will be on hand, selling their honey in a variety of sizes. There will also be food, art & crafts, and live music.
For decades, tupelo honey has been synonymous with Gulf county. The pollen from the tupelo gum tree (Nyssa ogeche), produces some of the finest honey in the world. The common name "tupelo" is derived from language of the Muscogee Nation, also known as the Creek Indian Nation. The meaning of the word is "swamp tree", as this tree flourishes in areas of wet soils and seasonal flooding. Gulf county, especially in the Dead Lakes and Apalachicola river region, provides prime habitat for one of the largest tupelo forests on earth.
The tupelo pollination process kicks off during April. The tupelo bloom begins to form as a small bud. Within a few weeks, the bud explodes into a cluster of many nail or spike like attachments. At this point, honeybees begin to descend and capture the pollen.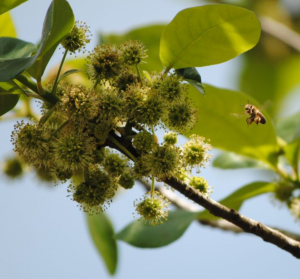 Figure 1. Honeybee visiting tupelo blossoms.
Credit. Gulf County Tourist Development Council.
The tupelo bloom season lasts from approximately mid-April to the end of May. This is an anxious time for beekeepers. Tupelo blooms are very temperamental and delicate in nature. For this short period, beekeepers hope for little wind or rain and no cold temperatures, as any of these factors can decimate tupelo honey production. Regardless of seasonal impacts, the demand for Gulf County's tupelo honey never subsides.
A bonus to honey's great taste, is the medicinal value. Honey has been used for medicinal purposes throughout time and cultures. Ancient Egyptians used honey in the embalming process, wound dressing and treatment for burns. Honey can be used as an antimicrobial agent. This is mostly due to low concentrations of hydrogen peroxide produced naturally from sugar compounds. Honey contains large amounts of sugars, approximately 97%. Most of the sugar content is glucose and fructose. Honey also contains smaller amounts of vitamins and minerals.
The color of honey is a factor when grading content. Generally, a darker honey will have a higher concentration of polyphenols. This means the honey is higher in antioxidants and anti-inflammatory properties. Exposure to area honey has been thought to help people who suffer from area specific seasonal allergies. However, there is no consensus among the scientific community to support the claim. Though there is research supporting honey as medicinal purposes, please consult with your physician before using as a medical treatment.
Enjoy tupelo honey and see you at the festival!
For more information on Gulf County Tupelo Honey, please visit:
http://www.tupelohoneyfestival.com/
https://www.visitgulf.com/tupelo-honey
Supporting information for this article can be found in the UF/IFAS EDIS publication "Health Benefits and Medicinal Value of Honey" by Sara Marshall, Liwei Gu and Keith R. Schneider: https://edis.ifas.ufl.edu/pdffiles/FS/FS26700.pdf
An Equal Opportunity Institution. UF/IFAS Extension, University of Florida, Institute of Food and Agricultural Sciences, Nick T. Place, Dean for UF/IFAS Extension. Single copies of UF/IFAS Extension publications (excluding 4-H and youth publications) are available free to Florida residents from county UF/IFAS Extension offices.
Latest posts by Ray Bodrey
(see all)