Having just completed the Okaloosa/Walton Uplands Master Naturalist course, I would like to share information from the project that was presented by Ann Foley.
The Florida Torreya is the most endangered tree in North America, and perhaps the world! Less than 1% of the historical population survives. Unless something is done soon, it may disappear entirely! You can see them on public lands in Florida at Apalachicola Bluffs and Ravines Preserve and beautiful Torreya State Park.
The Florida Torreya (Torreya taxifolia) is one of the oldest known tree species on earth; 160 million years old. It was originally an Appalachian Mountains ranged tree. As a result of our last "Ice Age" melt, retreating Icebergs pushed ground from the Northern Hemisphere, bringing the Florida Torreya and many other northern plant species with them.
The Florida Torreya was "left behind" in its current native pocket refuge, a short 40 mile stretch along the banks of the Apalachicola River. There were estimates of 600,000 to 1,000,000 of these trees in the 1800's. Torreya State Park, named for this special tree, is currently home to about 600 of them. Barely thriving, this tree prefers a shady habitat with dark, moist, sandy loam of limestone origin which the park has to offer.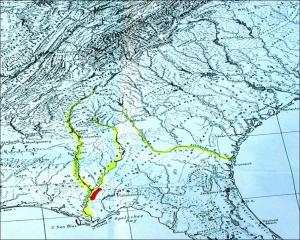 Hardy Bryan Croom, Botanist, discovered the tree in 1833, along the bluffs and ravines of Jackson, Liberty and Gadsen Counties, Florida and Decatur County in Georgia. He named it Florida Torreya (TOR-ee-uh), in honor of Dr. John Torrey, a renowned 18th century scientist.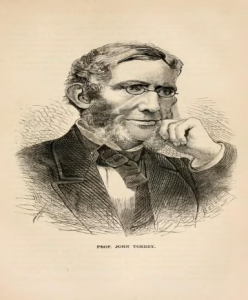 Torreya trees are evergreen conifers, conically shaped, have whorled branches and stiff, sharp pointed, dark green needle-like leaves. Scientists noted the Torreya's decline as far back as the 1950's! Mature tree heights were once noted at 60 feet, but today's trees are immature specimens of 3-6 feet, thought to be 'root/stump sprouts.'
Known locally as "Stinking Cedar," due to its strong smell when the leaves and cones are crushed, it was used for fence posts, cabinets, roof shingles, Christmas trees and riverboat fuel.  Over-harvesting in the past and natural processes are taking a tremendous toll. Fungi are attacking weakened trees, causing the critically endangered species to die-off. Other declining factors include: drought, habitat loss, deer and loss of reproductive capability.
With federal and state protection, the Florida Torreya was listed as an endangered species in 1983. There is great concern for this ancient tree in scientific community and with citizen organizations. Efforts are underway to help bring this tree back from the edge of extinction!
Efforts include CRISPR gene editing technology research being done by the University of Florida Dept. of Forest Resources and Conservation- making the tree more resistant to disease. Torreya Guardians "rewilding and "assisted migration".  Reintroducing the tree to it's former native range in the north near the Biltmore Estate in Asheville, NC, which has maintained a grove of Torreya trees and offspring since 1939 and supplying seeds for propagation from their healthy forest.  Long before saving the earth became a global concern, Dr. Seuss (Theodor Seuss Geisel), spoke through his character the Lorax warning against urban progress and the danger it posed to the earth's natural beauty. All of these groups, and many others, hope their efforts will collectively help bring this tree back from the brink!
Latest posts by Sheila Dunning
(see all)