If you live in northwest Florida or southeast Alabama and have never laid eyes on our wild native carnivorous plants, it is about time! April and early May are the best time to see them in bloom. We have six species of pitcher plants (Sarracenia), the most common being the white-topped (Sarracenia leucophylla). However, they come in multiple colors, from yellow and red to a deep purple, and in different sizes.
One thing they have in common, though—they eat meat. Carnivorous plants all over the world have evolved in places that left them few other options for survival.  These plants are typically found in extremely wet, acidic, mucky soils with very low nutrient levels. Normally, plants uptake nutrients like nitrogen and phosphorus from the soil around them. Not being available in these particular environments, carnivorous plants (or more specifically, insectivorous) developed a way to extract nutrients from insects.
So how does it work? Pitcher plants have a modified leaf, which instead of lying out flat like most plants, is rolled up into a tube, or "pitcher" shape. The inside of the pitcher has a sweet sap, and the walls of the tube are lined with tiny, downward-pointing hairs. Separate from the leaf, the plant has an elaborate flower structure, which attracts insects for pollination. While nearby, these insects are also attracted to the colorful leaf and the sweet sap in its pitcher. The insect will land on the lip of the leaf, then crawl down.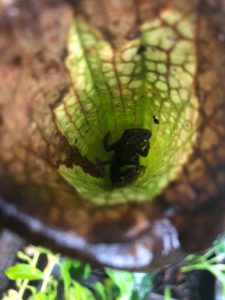 Those sticky, downward facing hairs are a trap, preventing insects from leaving the pitcher. Enzymes—a cocktail of proteins naturally found in many other plants but used creatively here—in the sap break down the bug bodies and convert them to nutrients for the plant. In fact, if you slice a cross-section into a pitcher wall or break open a dried one, you will see countless dried exoskeletons at the bottom of the tube. Several other enterprising species have taken advantage of the pitcher plant's creative structure. More than once, I have seen tiny spiders spin webs across the mouth of the tube, or small lizards and frogs at the bottom, waiting patiently for prey.
Some of the best places to see pitcher plants in the area—they also bloom in October—are Tarkiln Bayou State Preserve, Weeks Bay National Estuarine Research Reserve, Splinter Hill Bog Preserve, and Blackwater State Forest.
Latest posts by Carrie Stevenson
(see all)