The diversity and natural beauty of the Escribano Point Wildlife Management area is breathtaking. These six square miles of conservation lands provides many types of outdoor recreation including: birdwatching, kayaking, camping, swimming, fishing and hiking. The bays, estuaries, river swamps and other coastal habitats are managed to preserve native plants and animals. Visit Escribano Point Wildlife Management Area (WMA) soon and discover this piece of old Florida.
The Escribano Point WMA is part of state-owned conservation lands that provide habitat for rare plants and animals and promote water quality in Blackwater Bay, East Bay and the Yellow River. The diverse habitats found in Escribano Point WMA provide home to many types of wildlife including, deer, turkey, Florida Black Bears, birds, reptiles amphibians and fish.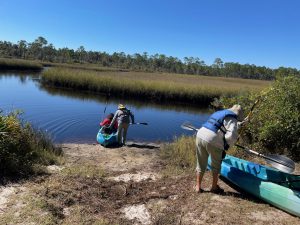 As part of the Florida Master Naturalist Program's 20th Anniversary, a small but mighty group hit the water just as the air temperature broke 60 degrees on Saturday. We kayaked up Fundy Bayou and out to Fundy Cove located along the southeast side of Blackwater Bay in Santa Rosa County, Fl. 
We traveled through freshwater and saltwater marshes, along scrubby flat woods, beach and mesic hammock habitats. Ospreys, a kingfisher, and red-headed woodpecker entertained the group. The air temperature warmed as we paddled. When we arrived at the junction of Fundy Creek and Blackwater Bay, Blackwater Bay was rough. We paddled to the campground for lunch and enjoyed the peaceful beauty around us.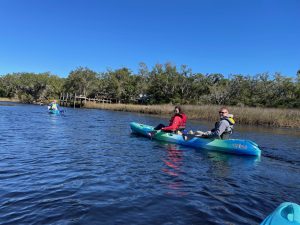 Thanks to Kayak Dave, one member of the group checked an action on her bucket list to paddle again.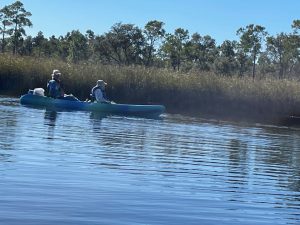 Escribano Point WMA is a treasure located in Santa Rosa County, FL., approximately 20 south of Milton, FL . Take some and visit for a day or two, there are 2 campgrounds located at this WMA. Enjoy!
Latest posts by Chris Verlinde
(see all)