"Someone dumped oil in the creek behind my house!" I had dozens of people call with that exclamation when I was a field inspector for the Florida Department of Environmental Protection's (FDEP) wetlands compliance program. A significant portion of the job entailed responding to concerns and complaints from citizens regarding damage to wetland areas. In the field, I would come across an oily film along creeks in rural, near-pristine conditions in northern Holmes County and in heavily populated neighborhoods in the tourist hot spots of Destin and Panama City. The first time I saw it, I was taken aback. A shiny, rainbow sheen is something you might expect in an oil-soaked parking lot, not a relatively untouched body of water.
Thankfully, an experienced colleague explained the workings of iron-oxidizing bacteria to me, and I was able to allay the fears of all those frantic homeowners. All the places I've ever seen evidence of iron bacteria on the water were adjacent to wetlands with some level of iron in the soil. The bacteria essentially "eat" ferrous iron, which is common and able to react with other elements in oxygen-free (anaerobic) environments. Wetlands are classic examples of anaerobic soils, and the mucky conditions of a stream floodplain are ideal for iron bacteria. These are naturally occurring, harmless bacteria that gain energy by breaking down iron available in the soil. In addition to the oily film, side effects of iron-oxidizing bacteria can include a swampy odor, a reddish filament, or red chunks of iron. In large amounts, these byproducts can clog wells if present in pipes. This can be problematic and prevent water flow, but the iron and bacteria are not threats to human health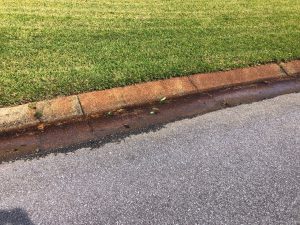 A colleague with Escambia County recently responded to a homeowner call about bright orange water flowing out of their front yard. While not the typical creek location, environmental conditions were absolutely suited for this phenomenon. Their neighborhood is situated adjacent to a large wetland area, and several of the homes have French drains in the backyards that drain out to the street. During heavier rainfalls, excess groundwater enters those pipes, picks up iron bacteria in the soil, and exits to the surface along the road. The red-stained curbs are evidence that iron is common in the local soil.
While it's possible someone could dump oil in a backwoods area (and if you do ever see that, report it to FDEP), it is much more likely that you are seeing the natural aftereffects of iron-oxidizing bacteria. To determine the difference between iron bacteria and actual oil, one simple test is to touch the water and its oily film with a stick. If the sheen fractures into small pieces, it's iron bacteria. If it oozes back to an intact slick (and smells like petroleum), it could very well be oil.
Latest posts by Carrie Stevenson
(see all)