Based on the number of EDDMapS records for the panhandle – yes… we can.
And if these records are accurate – yes… we should.
I have seen the impact this plant can make. It has invaded Texas and Louisiana and has caused enough problems for the USDA to list it as one of America's most noxious weeds. In Texas they have had "all calls" for anyone able to come to the state and help with management.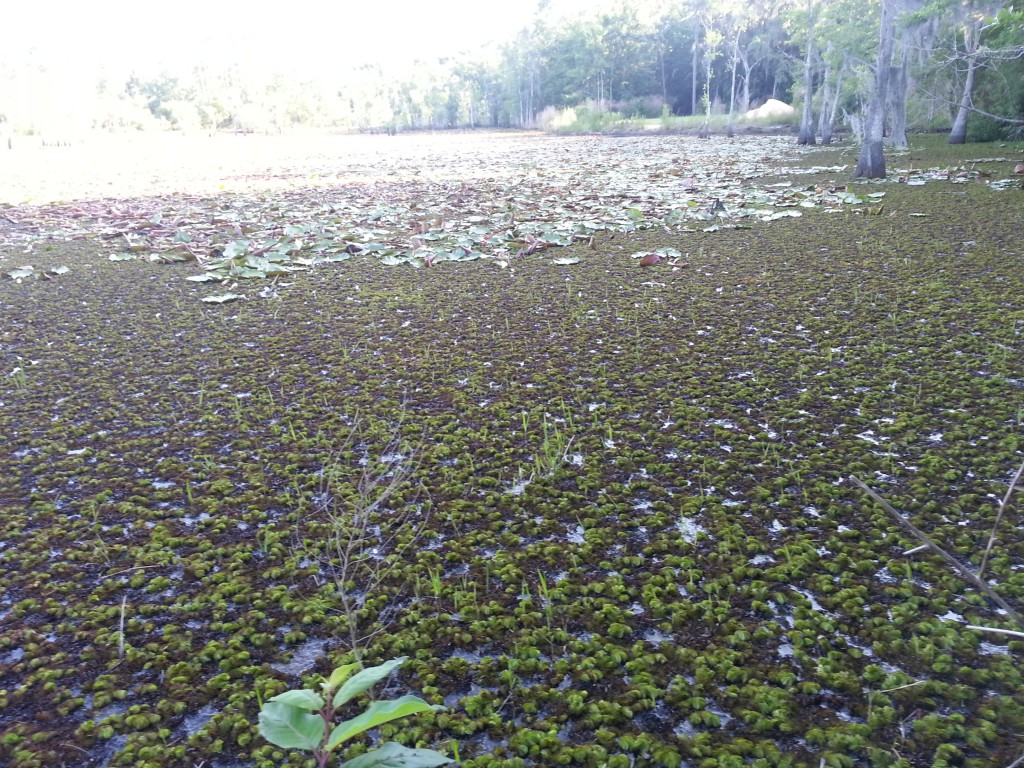 I was camping in a state park near Shreveport LA. After we set up camp my grandson and I went to look at the lake. You could tell it was once clear water and cypress trees, but the water was completely covered with plant growth that looked, from a distance, like dollar weed and that there was no visible water at all. Completely covered. And then it hit me… THIS IS SALVINIA! Shortly after I saw the sign along the shoreline describing the plant and what to do to avoid spreading it. There was a yellow boom stretched across the surfacce to keep the plant from getting into the swimming area – but no one was swimming. The bottom was muck and I did not see any fish. There was no recreational activity at all. The boat ramp was completely choked with the weed, and I am not sure you could paddle through it anyway. It was a mess.
According to EDDMaps, there are only 14 records statewide, 11 of those are in the panhandle, and 9 of those are in Pensacola. We are certainly ground zero for the problem and FWC has been working over the last couple of years to eradicate it. All nine records are in Bayou Chico, and if FWC is successful at eradicating it, this will significantly make strides to eliminating the plant from the state. The other two locations in the panhandle are a retention pond at the northern arm of Deer Point Lake in Bay County, and a pond near Quincy FL.
Is this all of it?
Are there other sites with this plant that we do not know about?
I have been following EDDMapS records for a couple of years now and there are new records in central and south Florida -so, maybe.
If so, they need to be reported so that FWC can begin treatment. How would you know if the plant is present? How do you identify it?
Here are links to learn more about the plant. It prefers quiet/slow moving freshwater systems with plenty of nutrients. If you think the plant is present in your community, contact your county extension office to verify and report it.
UF IFAS CAIP – https://plants.ifas.ufl.edu/plant-directory/salvinia-molesta/
UF IFAS Blog – https://blogs.ifas.ufl.edu/escambiaco/2021/09/29/weekly-what-is-it-giant-salvinia/
UF IFAS Blog – https://nwdistrict.ifas.ufl.edu/phag/2020/05/29/giant-salvinia-a-highly-invasive-aquatic-plant-you-dont-want-growing-in-your-pond/.
Latest posts by Rick O'Connor
(see all)