Despite its name, giant salvinia (Salvinia molesta) is actually pretty small. The floating plant starts out with a cluster of leaves no bigger than a dime. They don't stay that way, though, and perhaps their outsized influence and spread gives the "giant" a little more credence.
Giant salvinia is an invasive aquatic plant that was introduced to the United States as an ornamental plant (for aquariums and backyard ponds) from South America. Once it managed to escape to the wild, however, salvinia really took off. More than 20 states report salvinia popping up in their waters, although Texas and Louisiana seem to have the biggest battles with it. The plant has choked up entire freshwater lakes and sections of rivers, requiring a major eradication effort just to regain access to the water. Even small craft like kayaks and canoes cannot make it through a water body clogged with this plant. It is often spread by small pieces lodging in boat motors and trailers, so if you boat frequently in an area of known salvinia, be sure to remove any fragments of the plant once you are back on land. Preventing the spread from one water body to another is crucial.
Our native birds, fish, and aquatic mammals don't eat giant salvinia—it appears not to have much nutritional value—and therefore its growth goes unchecked. The thick mats of plant growth block sunlight into the water column, preventing other aquatic plants from growing. Die-offs of large numbers of salvinia can eat up oxygen levels in the water, causing fish kills.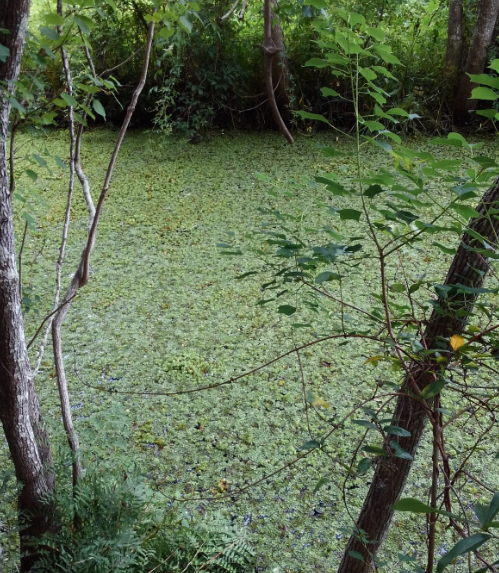 There are several approaches to managing the plant. Mechanical or hand removal can take out significant amounts of salvinia, but is ineffective in the long run. Any small piece of chopped up plant left behind in the process will regrow into new spreading plants, so leaving any fragments in the water ends up increasing the population. More effective methods include applying herbicides or using a biocontrol insect called the salvinia weevil. This South American beetle (Cyrtobagous salviniae) is very small (only 2 mm as an adult) but feeds exclusively on salvinia plants, stunting their growth and causing them to sink underwater. A well-established salvinia weevil population can effectively manage large infestations of the plant, dropping coverage by 90%.
One natural check to unfettered growth in our area is that salvinia tends to thrive only in freshwater or very low salinity water bodies. We have identified populations of salvinia in the upper reaches of local bayous in Escambia County, but as salinity levels increase closer to the bay, the plant seems unable to establish itself.
Identification of giant salvinia is rather fascinating, as you need a hand lens to definitively distinguish it from a very similar nonnative species called water spangles or water fern (Salvinia minima). Both species have small clear-white, upright hairs covering the leaves. When examined closely, the observer will note that in giant salvinia that double pairs of hairs form a structure very similar to an egg beater, whereas in water spangles the leaf hairs do not connect.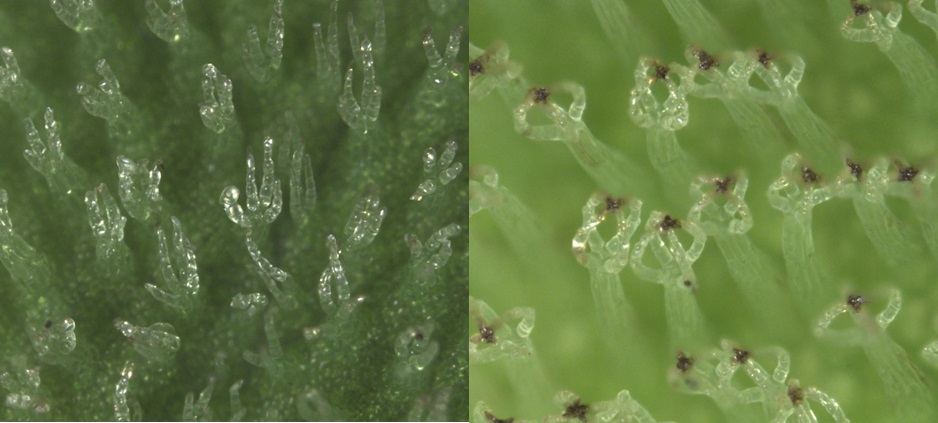 If you think you see giant salvinia in a local water body, we would love to know. It is an aggressive invasive plant that is relatively new to the area, and we have a chance to keep this from spreading with your help. What can you do?
Contact the Escambia County Division of Water Quality and Land Management – (850) 595-3496
Contact the Escambia County Extension Office – (850) 475-5230 ext. 1111
Report in the EDDMapS national database – https://www.eddmaps.org – select "report sightings"
If you find just a small amount, remove it and allow to dry out on your property. Once dried you can double bag and dispose of it.
Latest posts by Carrie Stevenson
(see all)