Hunting and fishing is an important part of natural recourse conservation. In the state of Florida, once you reach the age of 16, anyone born on or after June 1, 1975 must have passed a hunter safety course to purchase hunting licenses.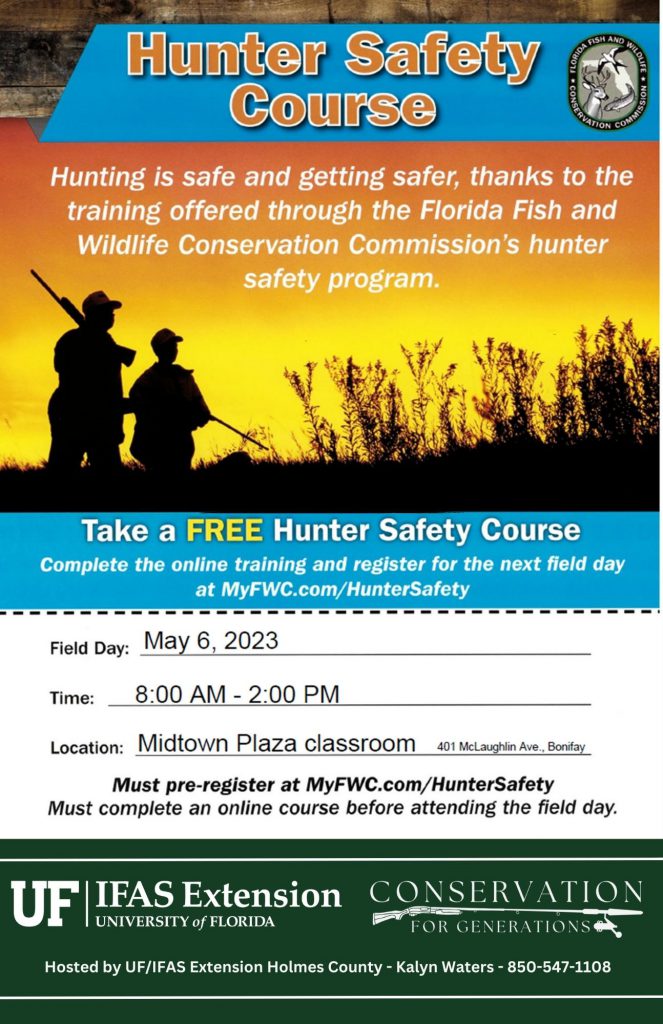 In collaboration with Florida Fish and Wildlife Conservation Commission, UF/IFAS Extension Holmes County will be hosting a Hunters Safety Field Day on May 6, 2023 in Bonifay Florida.
Location: Mid-Town Plaza 401 McLaughlin Ave, Bonifay, FL 32425 (Old Middle School)
Date/Time: May 6, 2023 from 8 AM to 2 PM (CST)
Class Registration Link: https://app.myfwc.com/hgm/huntersafety/clsreq.aspx?p_class_id=53046
Free Online Portion Link: https://nra.yourlearningportal.com/Course/HuntersEdActivityInfoPage
Website: https://myfwc.com/hunting/safety-education/courses/
Participants must complete an online training prior to attending the in-person field day.
This class is designed for participants 12 years and older. The classroom portion is followed by a range field event. Please dress accordingly for weather and being outdoors.
Important information from the FWC website:
If your child is under 18 years of age, they must present a Parental Release Form signed by the child's parent or guardian to the instructor at all courses. This will allow your child to participate in the live fire exercises. Download the Parental Release Form. Forms will be available the day of the event to be filled out.
Parents or legal guardians are required to accompany children under the age of 16 to all classes.
This course is designed for students 12 years old and up.
The FWC wants to ensure individuals with special needs have access to hunter safety programs. If a student needs special accommodations, please notify the FWC regional coordinator for your county a minimum of two weeks prior to the first day of class.
Latest posts by Kalyn Waters
(see all)