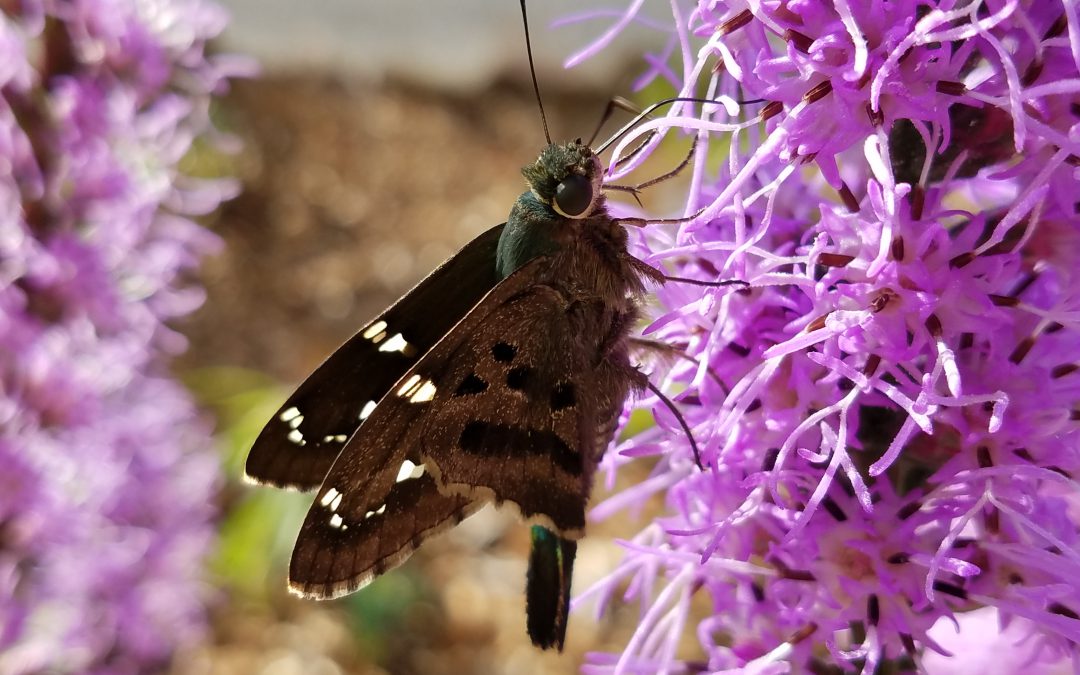 We don't always have to look closely or work hard to find beauty in our surroundings. While a well-tended landscape can certainly enhance the aesthetics of an area, there are plenty of places to find naturally attractive plants. With the benefit of being easy to care for, wildflowers are a great option for increasing the appeal of an area not just for people, but for wildlife and pollinators as well.
Not every wildflower is easy to grow or desirable in a landscape. Some have specific requirements that must be met for them to thrive, and some might be too vigorous in their growth. Invasive plants don't make good neighbors. There are some, however, that have all the right characteristics to make them a solid choice in almost any landscape. Here are four of those that are beautiful, well adapted to the climate and soil in North Florida, and don't necessarily make pests of themselves.
Beach Sunflower
https://edis.ifas.ufl.edu/fp245
Helianthus debilis, also known as beach or dune sunflower, is a perennial in warmer areas, but may die back during the winter in North Florida. Different varieties may sprawl or stand upright, reaching anywhere from one to four feet in height. Blooms may be found on this plant year-round, and even in areas where it is impacted by freezes it will reseed itself.
Beach sunflower prefers a sunny location and are hardy enough to withstand some fairly marginal locations. With good salt and drought tolerance, this plant can be established in an area and left to its own devices. Too much water and fertilizer can be more of a problem for them than too little, though a little of each can help if faster growth is needed. Just be sure to give it enough room, as it likes to spread out, and be ready to trim back old growth every few months to keep plants looking good.
Black-eyed Susan
https://edis.ifas.ufl.edu/fp512
Rudbeckia species are often known as Black- or Brown-eyed Susan. Native species and varieties can be found that are well adapted to life in Florida. With their distinctive bright yellow petals surrounding a black or brown center, Black-eyed Susans make great cut flowers and are an attractive addition to landscapes. Generally reaching one to two feet in height and spreading two to three feet, they bloom from spring to fall. Different varieties may be annual, perennial, or biennial.
Preferring full sun (though at least one variety tolerates part shade well) and well-drained soil, Rudbeckia does not mind drought or salt spray. Regular deadheading can help keep these plants looking their best.
Blanketflower
https://edis.ifas.ufl.edu/fp216
Gaillardia pulchella is a fiery-looking flower that provides pollinators with nectar and onlookers with a bright pop of color. Growing even in the meanest beach sand, blanketflower blooms from mid-spring to late summer, declining as weather cools. It relies upon its impressive ability to reseed itself to replenish itself each year and can spread rapidly in better soils. Those plants that do persist into cooler weather are in no need of protection, being able to withstand temperatures even into the 20s.
Relatively pest and disease free, plant this wildflower in full sun. It may tolerate some shade, but it will become leggy and creep in search of sun in such places. Dry or well-drained soil is best; certainly avoid over-watering.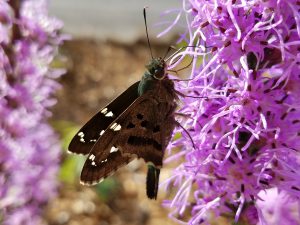 Blazing Star
https://gardeningsolutions.ifas.ufl.edu/plants/ornamentals/liatris.html
There are several species of Liatris native to Florida, any of which can be planted in the panhandle. Tall and showy, the purple blossoms open from the top of the 2-4 foot flower stalk and continue downward. They make great cut flowers and can be placed even in small gardens; while they are tall, they tend not to spread very far. Butterflies, bees, hummingbirds, and other pollinators are attracted to these plants, which tend to bloom in the fall.
Blazing star prefers to be planted in full sun, regardless of species. Well-drained soil is best, though one species, Dense blazing star, does well in moist or wet soils. These flowers do not tend to be firmly rooted, so take care when trimming back dead stems. Consider leaving the stalks alone for a while, even if they aren't the prettiest things – they will reseed themselves and birds may enjoy making a snack of the seeds.
There are, of course, many more wildflowers out there. These are only a few of the options available. Not all wildflowers are suited to formal landscapes and may be better for informal or naturalized areas. For more information, visit the Florida Wildflower Foundation at https://flawildflowers.org/, the UF/IFAS Florida-Friendly Landscaping™ Program's Butterfly Gardens mobile web app at https://ffl.ifas.ufl.edu/butterflies/, or the UF/IFAS EDIS publications https://edis.ifas.ufl.edu/topic_wildflowers.