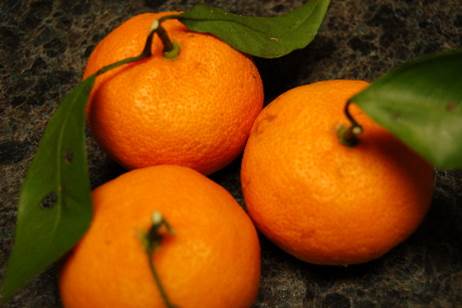 The satsuma mandarin (Citrus unshiu) is a popular dooryard fruit tree, and emerging crop, across the Florida Panhandle. 100-150 years ago it was a major cash crop for the region, with boxcar loads being shipped to the Northeast during the months of October-December. Due to a series of hard freezes in the 1950s and a shift in land use from produce production to timber, the satsuma industry was effectively dead in northwest Florida until recent years, when several entrepreneurial growers have invested time and effort in bringing back this delicious citrus to the commercial scene.
Throughout this time, many homeowners have enjoyed this historic citrus, dressing many a Thanksgiving table with its beautiful bright orange fruit. Satsumas contain few seeds, are generally sweet and very easy to peel. They are part of the mandarin group of citrus, and somewhat resemble canned mandarin oranges in shape and flavor. The cooler the fall temperatures (above freezing) the sweeter the fruit will be at harvest.
Mature trees are hardy down to 14-18 º F when budded to a cold hardy rootstock such as trifoliate orange or swingle. Young trees need to be protected from temperatures below the mid 20s, and fruit will be ruined if exposed to any freezing temperatures below "light frost" conditions. Commercial growers use protective techniques, such as microirrigation, to protect their fruit if freezing temperatures threaten harvest.
This Thanksgiving, if you do not have a satsuma tree of your own, seek out a local producer and buy a case of satsumas for the holiday season !
For more information on growing and harvesting satsuma mandarins consult "The Satsuma Mandarin – HS195", produced for your benefit by UF / IFAS Extension.