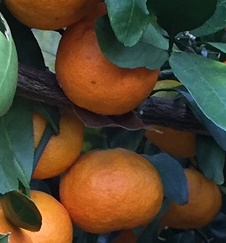 One question that repeatedly pops up in my Extension work is "When do I harvest fruit or vegetable X ?"  This fall, the question of "when should I harvest my citrus?" has been a choice topic! The most common citrus in the Florida panhandle is the satsuma, Citrus unshiu, so it makes sense to limit this article to that species.
Harvesting satsumas can be a confusing activity for new citrus enthusiasts. Fall seasons in the panhandle tend to be extremely variable, from cold and wet to warm and dry or any combination thereof. To complicate matters, citrus is often grown in a protected microclimate in the garden. Thus, another variable is added to the decision tree.
Some harvest considerations to take note of:
Sometimes the fruit is ready to harvest even when some green remains on the fruit
Not all fruit on a given tree will be ready at the same time
It's a good idea to harvest a few fruit per tree and taste test….this will be a good indicator of the readiness of the other fruit on the tree
A general trend to consider is that the longer the fruit remains on the tree, the sweeter it will become
When satsuma ripen, they become slightly soft. That's a good indicator that they are ready to harvest. This softness makes them extremely easy to peel but poses a challenge when harvesting. If they are simply pulled off of the tree, some peel will be left on the tree and the fruit will be compromised. Such a fruit would have to be consumed quickly. To solve this problem satsuma are clipped off the tree, leaving a tiny bit of stem attached to the fruit. This allows the fruit to be stored and transported.
When a hard freeze is approaching (5 hours below 28ºF), it is important to harvest the fruit before this event whether or not they are ripe. Hard freezes will ruin the texture of the fruit and cause them to begin the rotting process.
Since a hard freeze is forecast for Friday December 9th 2016 for part of the Florida Panhandle, consult your local weather forecast and make your decisions accordingly.  For an in-depth discussion on citrus fruit harvesting and cold tolerances, please consult this publication from Texas A& M University. Additional articles are available on cold protection and frost readiness here.