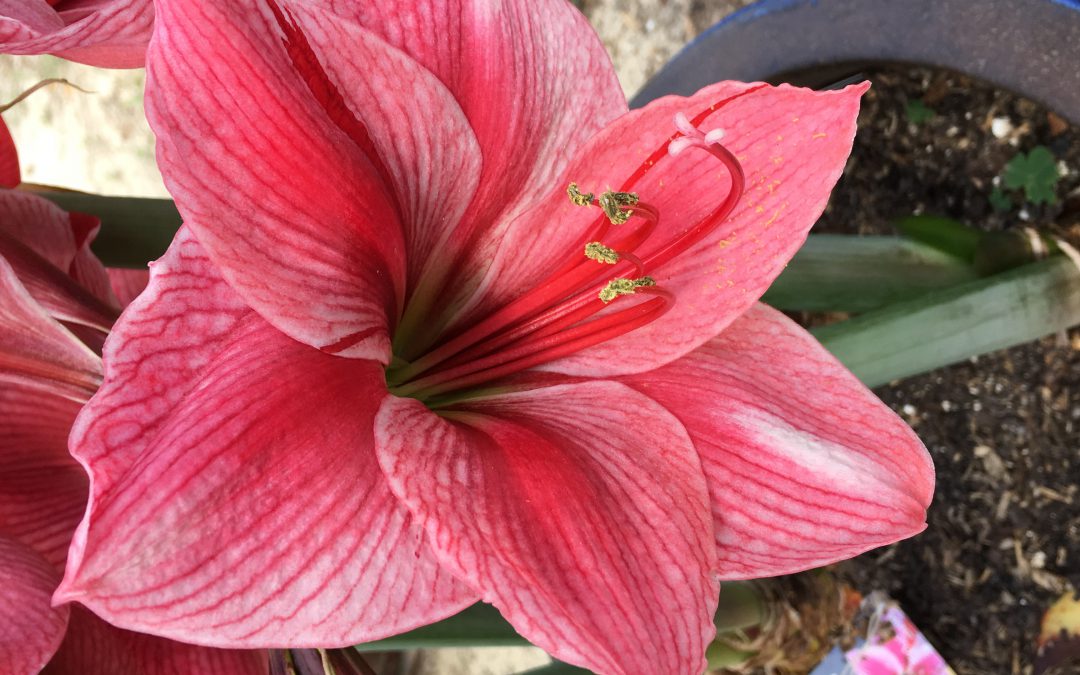 Are you tired of seeing only green from your shrubs such as boxwood or yew? Are the areas next to your home walls, fences, terraces, tree islands, gate entrances, and/or borders barren? Do you want to add color to these areas? You may want to consider planting these areas with the beautiful amaryllis (Hippeastrum x hybridum).
Amaryllis grows from a tough, dependable bulb that will bloom during the spring after winter dormancy. The strap-shaped leaves will emerge first and grow about 1.5 inches wide, up to three feet long, and persist much of the year in Florida. They are reduced later in the summer and ultimately die back from frost.
In the late winter, bulbs will eventually produce one to three leafless stalks, or scapes, that will each have two or more trumpet-shaped flowers. Flowers come in a variety of forms and shapes: from single and double, miniature or large. Flower colors can be red, bright pink, shades of pink, orange, white, rose, or even salmon. It does not stop there! The flowers may even be striped and multi-colored. Amaryllis can create a striking focal point when they are planted in clusters of 10 or more of similar color.
Amaryllis may be planted anytime of the year, but winter is best. They are sun- and shade-tolerant, but planting in light shade is best since leaves will yellow in full sun and plants bloom poorly in heavy shade. Amaryllis prefer well-drained sites to prevent bulb and root rots.
For the best amaryllis performance, till and amend the soil with a 3- to 4-inch layer of organic matter and 2 to 3 pounds of 6-6-6, or a comparable amount of other complete fertilizer per 100 square feet. Plant 12 to 15 inches apart. Amaryllis can greatly benefit from at least one fertilizer application in the early spring and two to three applications during the growing season.
After flowering it's a good practice to remove the stalks, unless seeds for planting are desired. If the bulbs become crowded, dig and separate them out. Doing this will encourage large, uniform flowers.
Go out, plant a few amaryllis plants today, and be ready to. To learn more about Amaryllis, please follow this link.