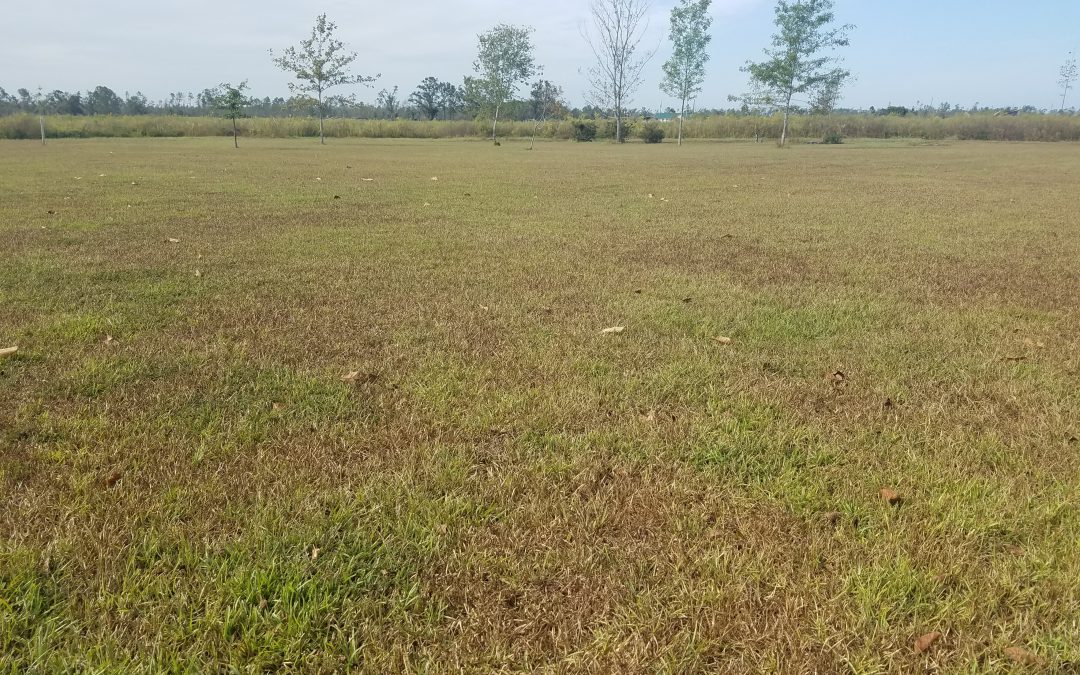 For a state that receives around 60" of rainfall a year, it is sure dry in Florida right now!  In the Panhandle, the majority of our annual rainfall occurs in in bunches during winter and early spring via near-weekly cold fronts, in the mid-summer as a result of afternoon thunderstorms, and periodically in late summer/early fall if a tropical system crosses our path.  Mixed in, however, are two distinct, historically dry periods: the first one in April through mid-May (contrary to popular myth, if we have May flowers, they're gonna have to make it without April showers) and the second right now in September and October.  The prolonged second dry period that we're experiencing now makes it difficult to manage the mostly unirrigated, low-input turfgrass common in rural Panhandle lawns and pastures.  It is critical to enter these expected droughts with healthy turf and remembering to employ 3 simple management tips when it quits raining (although you should follow them year-round ideally) can greatly increase your turf's resiliency!
Water Wisely – The average Florida turfgrass requires ¾-1" of water per week and we generally achieve that through rainfall.  However, in our droughty months, supplemental irrigation can be a lawn saver, particularly in high traffic or more stressed areas of the yard.  I realize that many of you, myself included, maintain large lawns without irrigation systems and it's impossible to keep all your lawn well-watered during drought, but you can maintain the areas around your home, hardscapes and landscaped beds with the highest impact/visibility nicely!  In these areas, put down no more than ¾" of water per irrigation event, a ballpark number that ordinarily allows the turf root zone to become saturated.  Measuring your sprinkler's water output is easily done by setting several straight-sided cans (tuna or cat food containers work great) under the sprinkler and timing how long it takes to achieve 3/4".  You might be surprised how much water you waste by leaving a sprinkler running for an hour or more!
Apply Herbicides Appropriately – Herbicides are a great item to have in the turf care toolbox, but if used incorrectly can be a waste of time and money at best, harmful to your turf at worst! Once turf and associated weeds become drought stressed (turning bluish gray, obvious wilting, leaves curling, etc.), it is too late for weed control with herbicides.  There are a couple of reasons for this.  First, when plants get stressed, they slow or stop their growth and focus on survival.  This survival response prevents herbicides from being taken up properly and ultimately causes ineffectual weed control.  Also, many herbicides specifically state on the product label that they should not be applied during certain conditions (drought, temperatures above 85-90 degrees, etc.).  It is critical that one adhere to these label directions as applying the incorrect product in hot and dry conditions can cause volatility, drift to non-target plants, and in some cases, toxicity to turf you're treating in.  When it's droughty like it is now, leave the herbicides in the chemical shed to prevent wasting your time and money and potentially damaging non-target plants!
Raise that Deck – Finally, one of the most important turf management strategies during an extended drought is to reduce mowing and raise your mower's cutting height when/if you do mow.  As mentioned above, plants are already stressed during a drought and physically chopping off a chunk of the turf plant stresses it further, causing an energy-intensive wound response when the plant is actively conserving resources for survival.  Therefore, if you just HAVE to mow, raise the cutting height as high as possible to make the smallest injury possible on the grass and keep your mower blades sharp to ensure a clean cut, which will heal easier and require a smaller energy response from the plant.
During droughts like the one we're currently in, there isn't one silver bullet to keep your non-irrigated turf looking good.  However, there are several strategies you can use throughout the year to get your lawn through dry times.  Remember to water ¾"-1" per week when you can, where you can.  Before you water, calibrate your sprinkler to ensure you put out enough water and don't waste your time and inflate your utility bill by putting out too much! Reduce or eliminate use of herbicides as they are ineffective during stress periods and can harm your turfgrass.  Finally, reduce or eliminate mowing and if you must mow, raise the deck!  If you have any questions about getting your turf through the drought or other horticultural or agronomic topics, please contact your local UF/IFAS Extension Office!