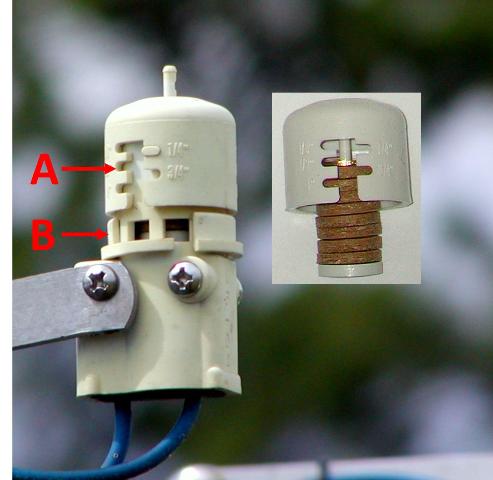 The Irrigation Association (IA) kicks off the official start of this year's campaign on Tuesday, July 9, 2019. The initiative promotes the social, economic and environmental benefits of efficient irrigation technologies, products and services in landscape, turf and agricultural irrigation.
Irrigation (agricultural and turf/landscape) accounts for 65-70% of total freshwater use in the United States. According to the Environmental Protection Agency's (EPA) WaterSense program, the average American family household uses more than 300 gallons of water per day; roughly 30% of this occurs outdoors. Efficient landscape irrigation systems and practices dramatically reduce water being lost or wasted.
The starting point for improving the efficiency of a home landscape sprinkler system is to calibrate each zone (http://ufdc.ufl.edu/IR00003389/00001) and make adjustments and repairs. That includes the rain shut-off device.
Florida is one of the few states with a rain sensor law. The most recent version of the statute (2010) states the following: "Any person who operates an automatic landscape irrigation system shall properly install, maintain, and operate technology that inhibits or interrupts operation of the system during periods of sufficient moisture." (Florida Statute 373.62). Regardless of the water source or age of the system, all in-ground irrigation systems must be connected to a functioning rain sensor of some kind.
Expanded disk devices are the most popular rain sensor due to their low cost, ease of installation, and low maintenance. Traditionally, they are wired into the controller, but a wireless version allows for quicker installation and mounting up to 300 feet from the controller. These "mini-click" sensors contain disks made of cork that absorb rainfall and expand, triggering a pressure switch. The disk cover is rotated to adjust for the predetermined amount of rainfall required to trigger the switch. It should be set on ½ – ¾ inch, depending on soil type and rooting depth of irrigated plants. The switch continues to interrupt the scheduled controller as long as the disks are swollen. When the rain stops, the disks begin to dry out. Once they have contracted, the switch closes and the regularly scheduled irrigation cycle begins where it left off before the interruption. These small cork disks wear out in Florida's heat and need to be replaced. By checking and repairing the sensor parts, the sprinkler system will operate much more efficiently. We have all seen irrigation systems running in pouring rain.  Keep yours maintained to avoid this needless waste of water.
So, join the kids this summer. Go outside and play in the water. Turn on the sprinkler system and check it out. July is Smart Irrigation Month. Let's see how efficient you can make your system and reduce the water waste in Florida.