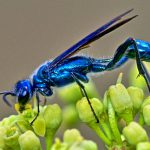 With all the media discussion of "bad" insects, like mosquitoes, many of the good guys are forgotten. One that has been very active this summer is the blue mud dauber, Chalybion californicum. These wasps are metallic blue, blue-green or blackish in color with very short narrow waists.  During the summer, female blue mud daubers build nests by bringing water to abandoned mud nests made by other species of mud dauber wasps.  They form new mud chambers, stock them with paralyzed spiders and a single egg, then seal the chambers with more mud.  Their offspring stay in the chamber, feeding on the spiders, and then pupate in a thin silk cocoon.  They spend the winter in the nest, emerging the following spring as adults.
Blue mud daubers are solitary wasps and not known to be aggressive. When the females have carried water to an old black and yellow mud dauber's nest, she softens it and remolds it to her needs.  The result is a very lumpy version of the originally smooth nest.  Next she must fill the nest with food for her future offspring.  The blue mud dauber prays on spiders.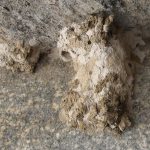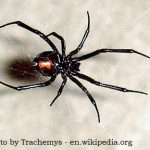 If orb weavers, lynx or crab spiders are plentiful, the blue mud dauber is able to land on their web without getting entangled and pluck the web to simulate an insect in distress. When the spider rushes to capture its prey, the poor arachnid becomes the victim of the wasp's paralyzing sting and is quickly flown to the mud nest.  However, the preferred host of the blue mud dauber is the southern black widow. Even without the elaborate web game, this wasp can control a dangerous nuisance.  Once at the nest with her spider victim, the blue mud dauber stores the paralyzed arachnid at the bottom of a mud cell and lays a single egg onto its body.  When the wasp larva hatches it consumes the remaining body of the spider.  With a full belly, the mature larva spins a papery silken cocoon within the mud nest and begins to pupate.  The following spring an adult wasp chews a round hole in the end of the mud cell and exits it's winter home.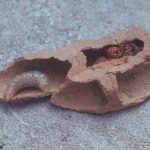 As adults, the blue mud dauber feeds on nectar from flowers and honeydew secreted by insects. Should you encounter a large congregation of this normally solitary wasp, don't be alarmed.  It is probably just a bunch of male blue mud daubers gathering together to sleep it off, after a heavy day of "drinking."
So, rather than having to cover yourself in DEET just to spend the evening on the patio, brave the heat (with water bottle in hand, of course) and spend the daytime hours watching the blue mud daubers prepare their nest for next year's young. Maybe the media will pick up on wasp that are reducing black widow populations, rather than the dangers of mosquitoes.
Latest posts by Sheila Dunning
(see all)