I had to do a hard thing last week.  My battle-worn okra, eggplant and pepper plants that had produced so reliably since June and endured all the summertime challenges (heat, insects, disease, and a hurricane to name a few) were finally pulled out of my raised bed garden and discarded.  A combination of lowered yields, increased insect pressure, and the fact that one can only eat so much okra in a calendar year sealed their fate.
However, before planting our cool-season veggie favorites, like those tender leafy greens and wonderfully crunchy carrots, there are a few things to do to get our raised beds in shape to give maximum yield performance and make growing a little easier.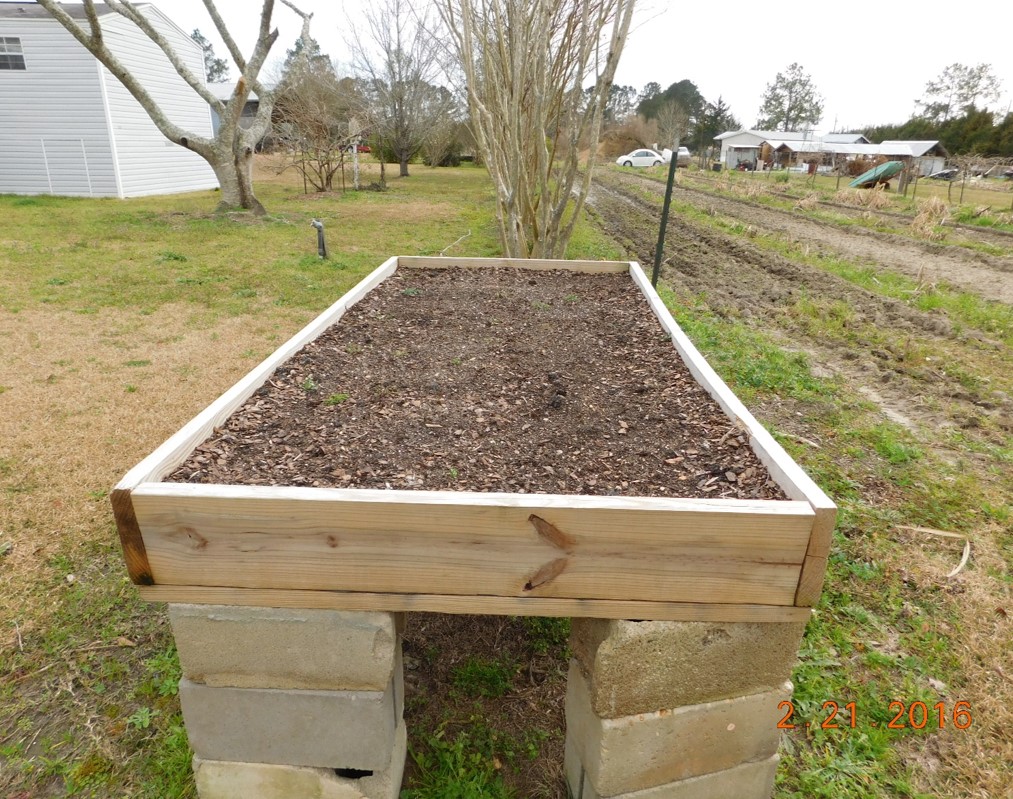 Replenish the Soil
One of the main benefits of raised beds is the ability to grow in near-perfect soil conditions.  If I was relegated to gardening in my yard's less than ideal native sandy soil, I might have given up altogether by now and I suspect many of you would be in the same boat.  Raised beds totally alleviate this problem and give gardeners the opportunity to grow in rich, fertile soil composed of your favorite homemade soil mixture (mine is two parts mushroom compost to one part aged pine bark) or commercial potting mix/compost.  However, at the end of each growing season, you will notice you have a bit less soil in your beds than you did at the beginning.  While frustrating, this is a natural process for soils rich in organic material – they naturally break down and decompose!   So to give your veggies' roots the maximum amount of growing space for the coming season, top off your beds with a quality soil/compost mix and till it in before sowing seed or setting out transplants.
Eliminate Competing Roots
If you have a mature tree anywhere near your raised bed garden, you are going to be in for a surprise when you till that new compost in!  It turns out that tree roots like that rich, fertile raised bed soil just as much as vegetables do and will seek it out. It is not uncommon for mature trees to have root systems that stretch horizontally two to three times the height of the tree, meaning a 50' oak tree could have roots growing well over a hundred feet away from its trunk!   Therefore, unless you have a totally tree-free property, battling tree roots in your beds will be an ongoing issue.  For instance, each fall, when I transition from warm season to cool season crops, I find that my neighbor's Laurel Oak has filled all three of my raised beds full of feeder roots glad to be free of the infertile sand.  This is a problem because those roots suck up vital water and nutrients meant for my vegetable crops, robbing them of reaching their full potential.   It is good practice to thoroughly till your beds' soil and remove as many of the competing roots as you can.  Doing so will give your new plants a head start on becoming established before the competition returns.
Depleted soil and competition from tree roots are two of the biggest threats to your raised bed's performance.  By planning ahead and accounting for both of these things prior to planting your fall garden, you will be more likely to reap a larger yields when harvest time comes! For more information on raised bed vegetable gardening and other horticultural questions, contact your local UF/IFAS Extension Office.  Happy fall gardening!
Latest posts by Daniel J. Leonard
(see all)