Plants with variegated foliage are very popular landscape selections.  As flowers fade on other plants, the colors of variegated foliage continue to add interest through multiple seasons.
A very adaptable shrub that has been around for a long time, now has a selection with beautiful variegated foliage.  Juliet™ cleyera offers green and white evergreen foliage that can brighten up a garden year around.  New foliage adds additional interest with a maroon tinge.
Like other selections of Cleyera, Juliet™ needs to be matched to an appropriate spot to accommodate its mature size.  Shrubs will reach about 8 feet in height with a spread of about 5 feet.  Plants may look best when left to grow in a more natural form with light selective pruning.  This shrub is probably not suited for planting in front of home windows but used as a specimen or as a nice screen plant.
Once established, cleyera is a low maintenance plant and is adapted to grow well without routine irrigation.  My home landscape has very well drained soil and I have not needed to apply supplemental irrigation to two cleyera shrubs in over 20 years.  Consider a spot that receives full sun or partial shade for your plants.
An added advantage of cleyera shrubs in general is that bees are attracted to the flowers so it makes an additional nectar source for pollinators in the spring.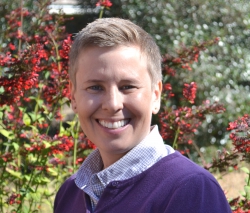 Latest posts by Beth Bolles
(see all)