When you hear the word "pollinator", what is the first insect that comes to mind? If I had to guess, you would probably say honey bee. European honey bees play an important role in agriculture as pollinators and honey producers, but there are hundreds of native pollinators often overshadowed by the beloved honey bee you should know about, too!
One such group of pollinators native to Florida are sweat bees. Sweat bees get their unfortunate name from their nutritional requirements of salt that are sometimes sourced from sweaty humans. They rarely sting but are capable, and they can certainly be annoying to people when they lick salt off their skin. This behavior tends to get more attention than their important role as pollinators.
A subgroup of sweat bees are furrow bees. Furrow bees nest in the ground or rotting wood and may be solitary or eusocial. In-ground nests are composed of branching tunnels in sandy soil at a depth between 8 inches and 3 feet with a small entry roughly the size of a pencil. Within the tunnels, the mother creates individual cells stocked with nectar and pollen and lays an egg. The larva feeds on these provisions and pupates underground eventually emerging as an adult. The life cycle can vary from a few weeks to a year or more depending on species and environmental conditions.
Furrow bees are generalist feeders which means they will visit many different flowers, so diverse landscapes are attractive to them. In my northwest Florida garden, I see them often on sunflowers, Black-eyed Susan, coneflower, cosmos, tithonia, zinnia, and tickseed.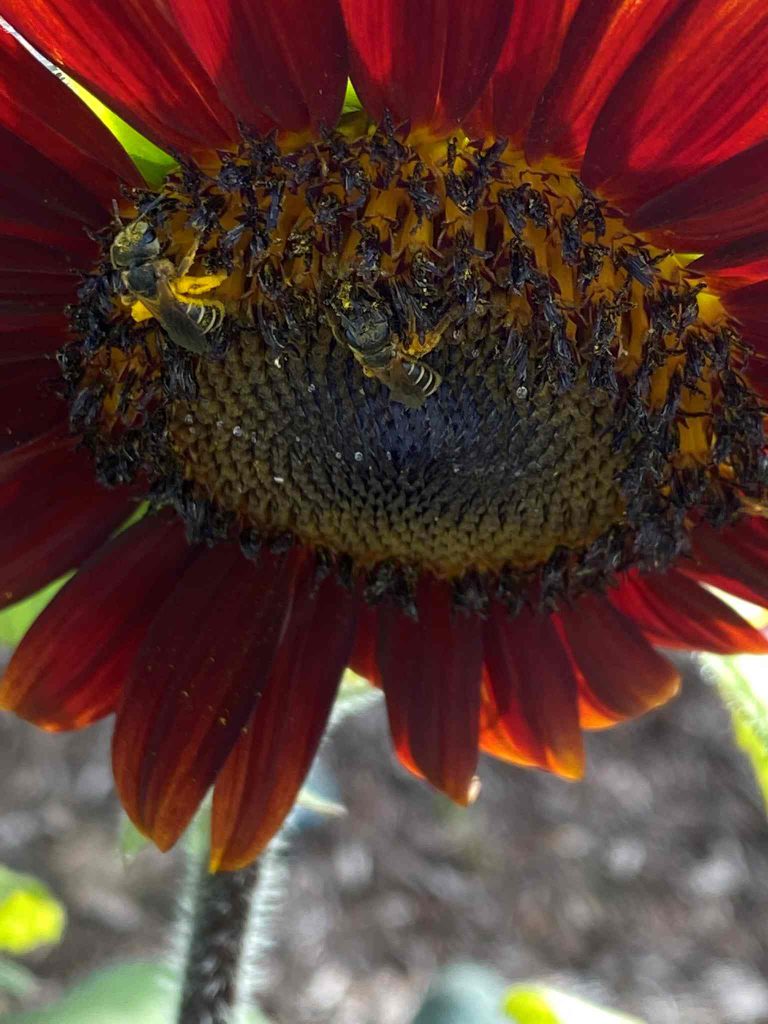 To learn more about this topic visit:
Sweat Bees, Halictid Bees, Halictidae
Attracting Native Bees to your Florida Landscape
Latest posts by Julie McConnell
(see all)