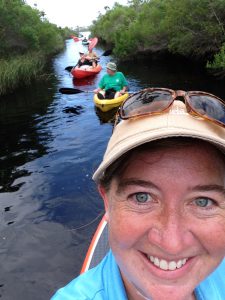 Carrie Stevenson is the Coastal Sustainability Agent for the UF/IFAS Escambia County Extension Office, and has been with the organization almost 17 years.  Her educational outreach programs focus on living sustainably within a vulnerable coastal ecosystem. She helps clientele better understand how to protect and preserve local ecosystems and water resources, wisely use our abundant rainfall and sunlight, and prepare and mitigate for flooding, coastal storms and climate impacts.
Growing up an avid reader and science junkie, a young Carrie aspired to find a career that allowed her to "be outdoors and wear jeans," and in college sought to become a science writer. When National Geographic didn't come calling, she found a position as a field-based environmental specialist with the Florida Department of Environmental Protection. There, she handled compliance and enforcement cases related to stormwater and wetlands, spending days tromping through the swamps, wet prairies, and newly built subdivisions of northwest Florida. After joining UF IFAS Extension, she spent 6 years as a Florida Yards & Neighborhoods Agent before switching to Coastal Sustainability. Her expertise and articles focus on climate issues, stormwater, hurricanes, native plants, and wetlands.
A lifelong outdoors enthusiast, she enjoys biking, standup paddleboarding, and traveling to national parks with her family. She also has many favorite international outdoor experiences, ranging from hiking glaciers in Canada to snorkeling coral reefs in Belize and watching elephants drink from a South African river. A native of Mississippi, Carrie has lived with her husband in Pensacola since 1999. Carrie earned her master's degree in Biology/Coastal Zone Studies from the University of West Florida in Pensacola and an undergraduate degree in Marine Science from Samford University (Birmingham, Alabama). She is the proud mom of an Eagle Scout and leads her daughter's Girl Scout troop. She is a Fellow in the Natural Resources Leadership Institute (NRLI), past president of the Florida Association of Natural Resource Extension Professionals (FANREP), and member of IMPACT 100 Pensacola Bay.
Latest posts by Carrie Stevenson
(see all)