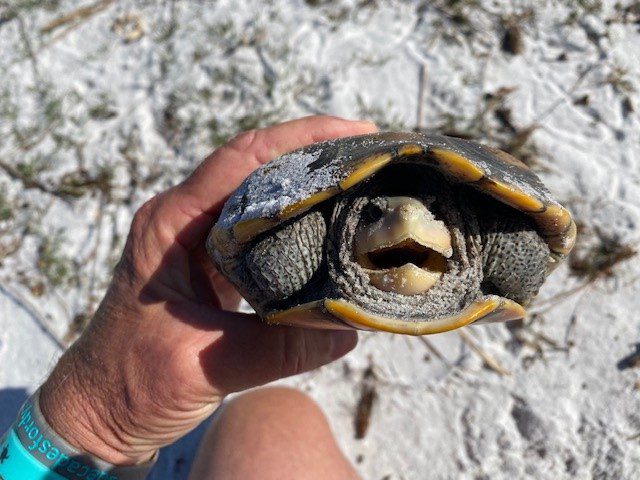 Diamondback terrapins are the only resident turtle within brackish water and estuarine systems. Their range extends from Massachusetts to Texas but, prior to 2005, their existence in the Florida panhandle was undocumented. The Panhandle Terrapin Project was developed to first determine whether terrapins exist in the panhandle (Phase I) and, if so, what is their status (Phase II and III).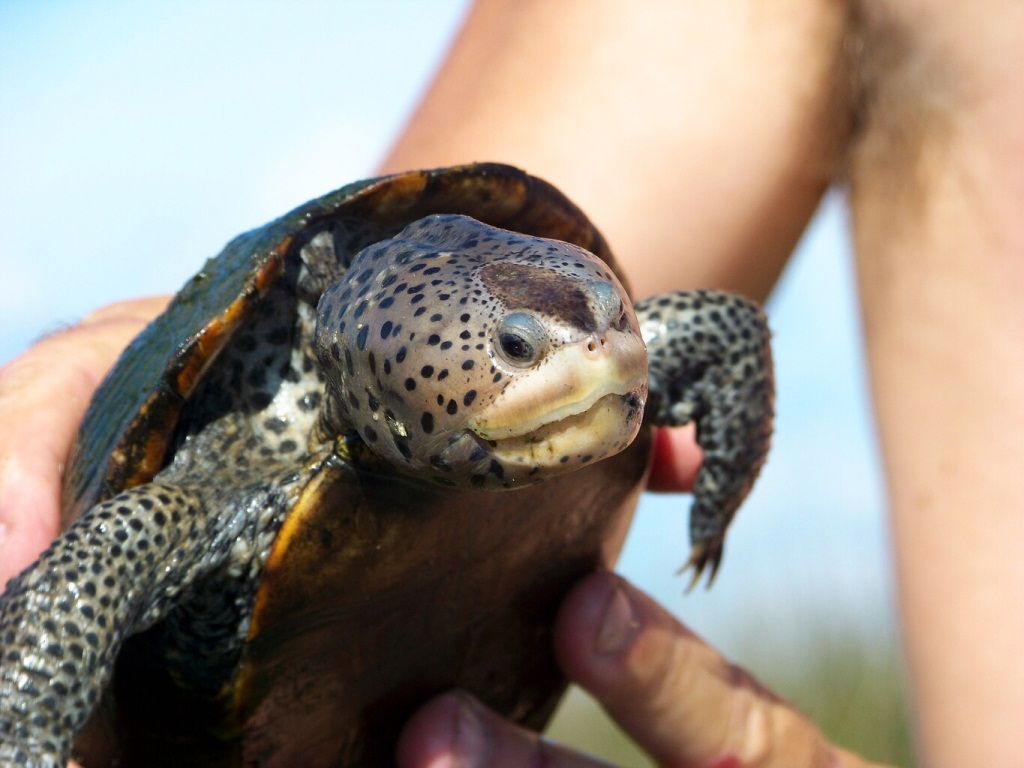 The project began at the Marine Science Academy at Washington High School (in Pensacola) in 2005. Between 2005 and 2010 the team was able to verify at least one record in each of the panhandle counties. For Phase II we used what we called the "Mann Method" to determine the relative abundance of terrapins in each area. To do this we needed to conduct assessments of nesting activity in each county. In 2012 the project moved from Washington High School to Florida Sea Grant. At that time, we developed a citizen science program to conduct Phase II of this project. Effort first focused on Escambia and Santa Rosa counties, but in recent years has included Okaloosa County. Florida Sea Grant now partners with the U.S. Geological Survey (based out of Gulf County) to assist with Phase II and lead Phase III, which is estimating populations using mark-recapture methods, as well as satellite tagging to better understand movements and habitat use. The focus of Phase III has been Gulf County, but tagging has occurred in Okaloosa and Escambia counties.
Over the years we have trained 271 volunteers who have conducted thousands of hours of nesting surveys and helped obtain a better picture of the status of diamondback terrapins in the Florida panhandle. Here are the 2023 project results.
Results from 2023
We trained 67 volunteers; 35 (52%) of which participated in at least one nesting survey.
The volunteers conducted 196 surveys logging 212 hours.
During those surveys terrapins (or terrapin sign) were encountered 43 times; a Frequency of Encounter (FOE) of 22%.
Three terrapins were tagged. Two from Okaloosa and one from Escambia. All but two of the nine primary survey beaches saw nesting activity (78%). One new nesting beach was discovered.
Escambia County
Two nesting beaches. 47 surveys. 7 encounters (FOE = 15%).
The Mann Method assumes the sex ratio is 1:1 (male: female) but recent studies suggest the ratio may be as high as 5:1 (male: female). Based on these two rations the number of terrapins estimated to be using these beaches ranged from 4-36.
One terrapin ("Dollie") was tagged. Fire ants and torpedo grass were reported on some beaches.
Santa Rosa County
Three nesting beaches. 68 Surveys. 14 encounters (FOE = 21%).
The number of terrapins estimated to be using these beaches ranged from 6-30.
No terrapins were captured, though one was seen nesting. No invasive species were reported from the nesting beaches.
Okaloosa County
Four nesting beaches. 67 surveys. 21 encounters (FOE = 31%).
The number of terrapins estimated to be using these beaches ranged from 2-66.
Two terrapins were tagged ("Kennedy" and "Molly"). Phragmites were reported from all beaches.
Walton County
Walton county currently does not have a volunteer coordinator and surveys are not occurring at this time. We are working with an individual who may take the lead on this.
Bay County
This team is just beginning and currently there are no primary beaches. The team focused on five beaches encountering terrapin nesting activity on one of them. They conducted a total of 14 surveys encountering terrapin tracks on 1 of those (FOE = 7%). The estimated number of terrapins using this beach ranged from 4-12.
Baldwin County Alabama
Due to the proximity of terrapin habitat and nesting beaches at the Alabama/Florida line, and the possibility of terrapins using habitat in both states, a team was developed in Baldwin County Alabama this year. The team began conducting Phase I surveys and encountered one deceased terrapin. No nesting beaches have been identified at this time.
Summary
The results of this year's surveys suggest that, based on the number of nesting beaches we know of, there are anywhere from 2-66 terrapins utilizing them. Again, two of the primary beaches did not have nesting activity this year. USGS tagging studies will provide better population estimates and a better understanding of how these animals are utilizing these habitats. The current population estimate for Gulf County is a little over 1000 individuals and most are showing relatively small range of habitat utilization, although two individuals in the western panhandle moved from one county to the neighboring one.
Training for volunteers occurs in March of each year. If you are interested in participating, contact Rick O'Connor – roc1@ufl.edu.