Since 2007 Florida Sea Grant has worked with partners, and trained volunteers, to assess the status of the diamondback terrapin in the Florida panhandle.  This small emydid turtle is the only one that lives in brackish water and prefers salt marshes.  Very little is known about this turtle in this part of the country, and the Panhandle Terrapin Project has the goal of changing that.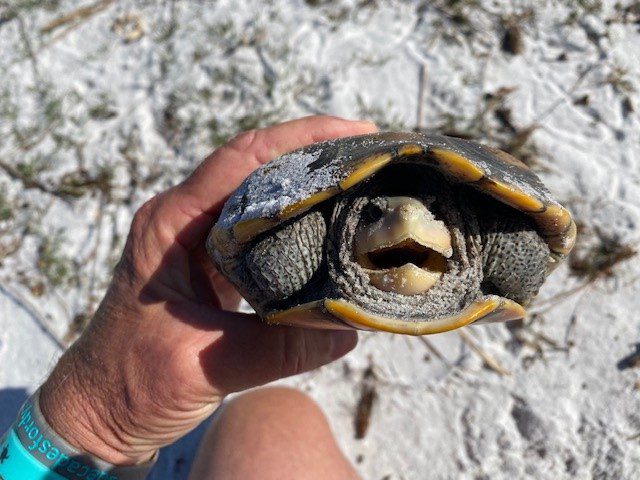 Terrapins have strong site fidelity, meaning they do not roam much, and spend most of their day basking in the sun and feeding on shellfish – marsh snails being a particular favorite. Like many species of turtle, they breed in the spring. Gravid females leave the marsh seeking high dry sandy beaches along the shores of the estuary to lay their eggs. Unlike sea turtles, she prefers to do this on sunny days – the sunnier the better. She typically lays between 7-10 eggs, and they hatch in about two months. The hatchlings spend their early months on shore, hiding under wrack and debris feeding on small invertebrates before heading to the marsh where the cycle begins again.
The project has three objectives each year. One, to survey known (primary) nesting beaches for nesting activity. The number of nests, tracks, and depredated nests can be used to calculate a relative abundance of these animals using those beaches. Two, survey potential (secondary) nesting beaches for any presence of nesting activity. Three, tag terrapins using the old notch method, PIT tags, and a small few with satellite tags. This will help us track terrapin movement and better understand how they use the habitat.
Since the project began, we have been able to verify at least one terrapin in each of the seven panhandle counties being surveyed and have identified nesting beaches in four of those. Relative abundance is rather low when compared to other regions within their range, but those beaches remain active.
The nesting season historically begins in late April and 2023 has been busy early.  Seven hatchlings that overwintered in their 2022 nests emerged and were found by volunteers, and others.  Two depredated nests were located, and one nesting female was captured and tagged.  The volunteers will continue to survey the rest of the spring and much of the summer.  Reports of these turtles are important in our assessment.  If you believe you have seen a terrapin, contact Rick O'Connor – roc1@ufl.edu – (850) 475-5230 ext.1111.  and let us know where.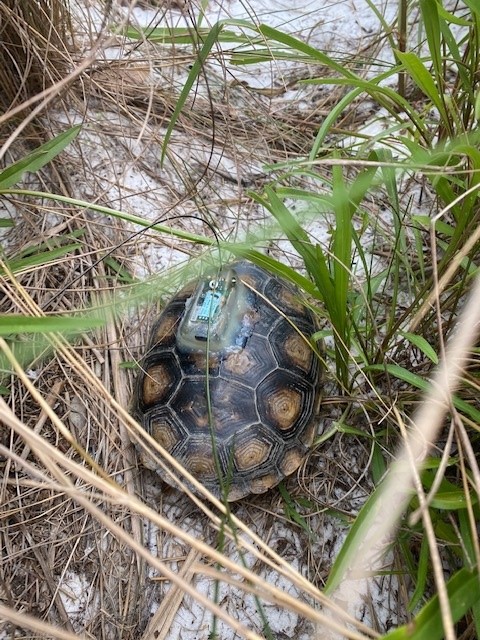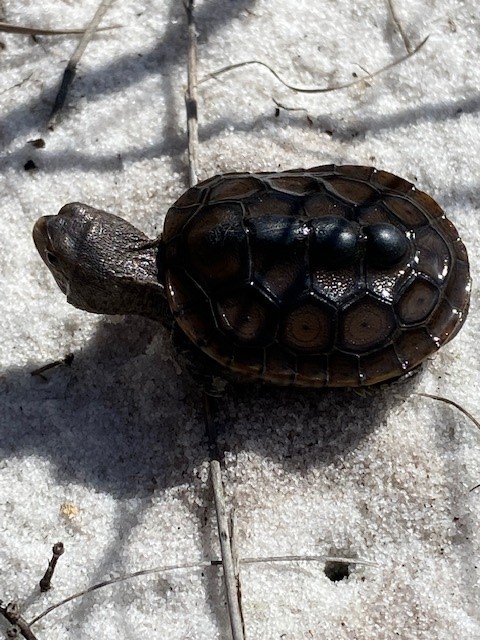 Latest posts by Rick O'Connor
(see all)