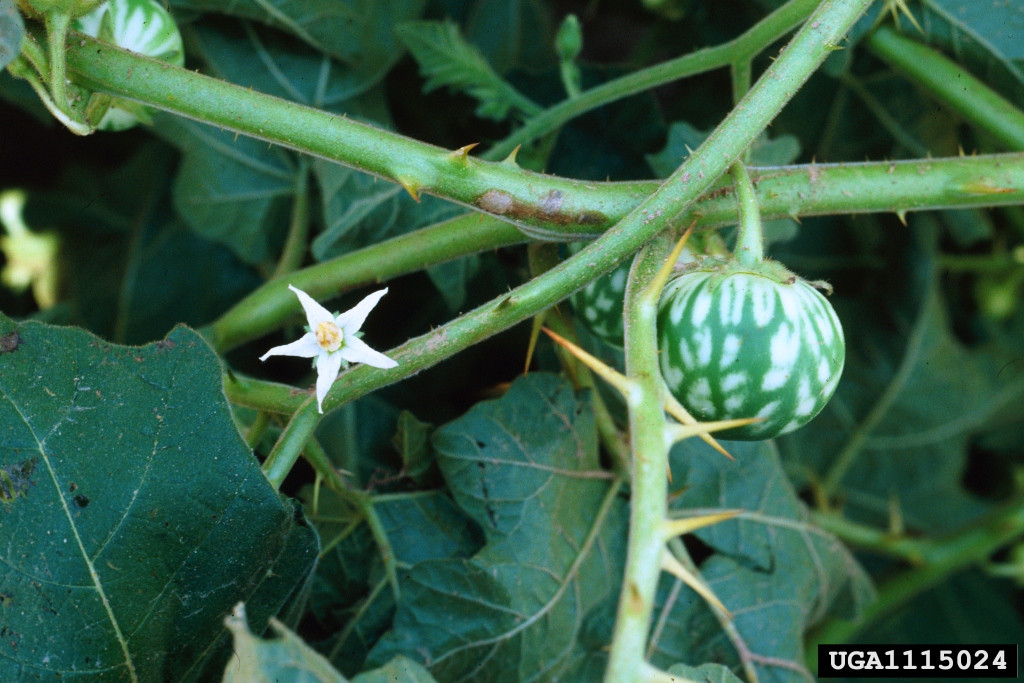 March 8th: Tropical Soda Apple (Solanum viarum) & Alligator Weed (Alternanthera philoxeroide)
Tropical Soda Apple: Florida ranchers know Tropical Soda Apple (TSA) as the "Plant from Hell". The plant is a native of South America. It was first noticed in south Florida, but its seeds survive in the digestive tract of animals and it spread north through the movement of hay and cattle. TSA plants are covered with thorns and can make large sections of pasture nearly useless for livestock. Concerted efforts to lessen the population of TSA since its arrival have reduced the populations in pastures but it persists in sheltered or waste locations. Cattle, birds, deer and feral hogs ingest the mature fruits and spread the plants to loafing and browsing areas that may be inaccessible to mechanical treatment with anything larger than a hoe. According to Dr. Jeff Mullahey,  who has been working on TSA since its appearance in south Florida, one plant can produce  40,000-50,000 seeds with seed germination ranging from 75%-100%. The seeds remain viable for at least three years. Be on the lookout for these while engaged in outdoor activities.
In South Florida, populations of the tropical soda apple leaf beetle (Gratiana boliviana) have had some efficacy as a biological control. However in North Florida the efforts to establish populations of these beetles from TSA's native habitat have been stymied by their inability to overwinter in our colder temperatures. Although you won't want to pull them up barehanded, isolated plants can be controlled by mechanical means. Herbicides effective on TSA can be found at http://edis.ifas.ufl.edu/uw097, or contact your local Extension agent.
For more information contact the author Jed Dillard, Livestock & Forages Extension Agent by phone at 850-342-0187.
Alligator Weed: This highly invasive aquatic weed, which is a native of South America, was first discovered in Florida in 1894 and is believed to have been transmitted through ballast water.  Alligator Weed is usually found as sprawling mats across the surface of water. Although classified aquatic, it can be found along shorelines or dry land.
This plant is a category II invasive and also an aquatic weed. The following information from the Center for Aquatic and Invasive plants, "This species is on the FL DACS Prohibited Aquatic Plant List – 5B-64.011. According to Florida Statute 369.25, No person shall import, transport, cultivate, collect, sell, or possess any noxious aquatic plant listed on the prohibited aquatic plant list established by the department without a permit issued by the Florida Department of Environmental Protection. See 5B-64.011 for more information."
There are several biological controls of Alligator Weed, such as the Alligatorweed Flea Beetle. When they attack mats of alligatorweed, the entire mat will begin to turn yellow and eventually turn brown to die. Significant control can be achieved in 3 months once beetles are established.   For more information about this biological control and others, please see the following IFAS extension publication, Alligatorweed flea beetle Agasicles hygrophila https://edis.ifas.ufl.edu/in831.
Chemical control is also possible with glyphosate, imazapyr and several other products. Always read the label carefully when using any herbicide. For more information please consult Efficacy of Herbicide Active Ingredients Against Aquatic Weeds (http://edis.ifas.ufl.edu/ag262).
For more information, contact the author Matt Orwat, Horticulture Extension Agent 850-638-6180.