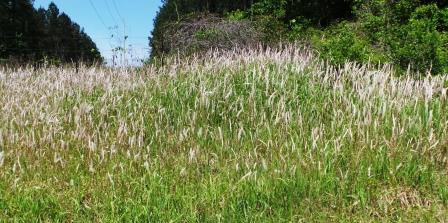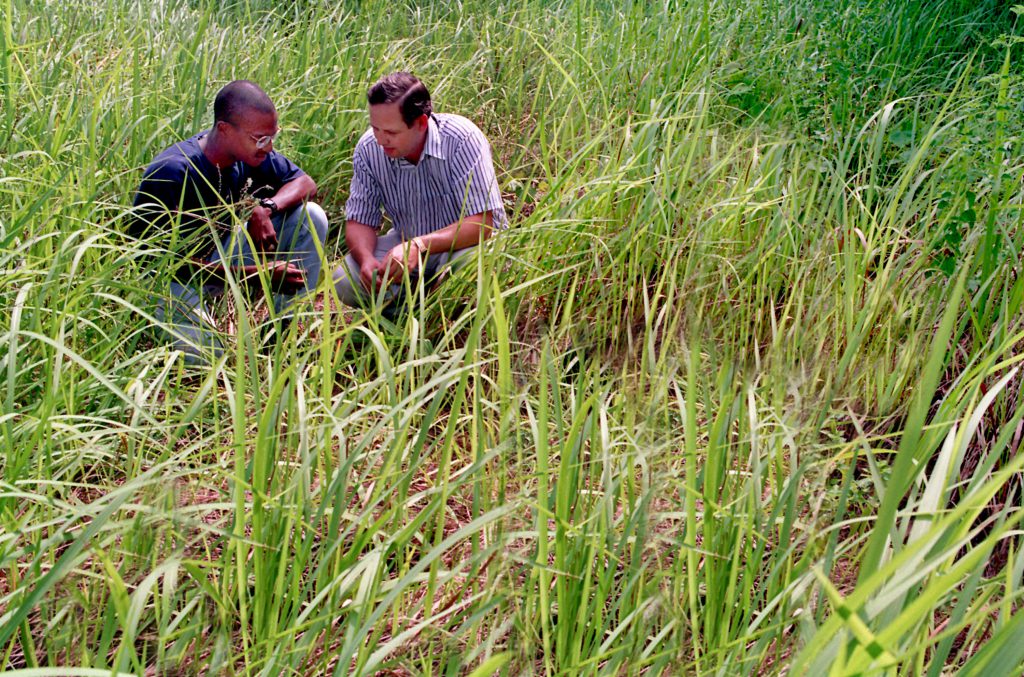 Cogongrass is one of our larger invasive species here in the Panhandle, and spring is a good time to detect and treat it. If you know or suspect your property may have cogongrass, spring is the best time to hunt it down and locate the spots and infested areas. It is also a great time to patrol your property boundaries as well to see if you have any that may be coming onto your property from a neighbor or right of way. Cogongrass seems to love fencerows and right of ways as it spreads easily on equipment through its tough rhizomes. One of the best ways to prevent large infestations from taking over portions of your property and creating a significant control cost is to catch it early. The key to this is to identify and mark small spots before they expand; and then follow up with herbicide treatment once to twice a year. Spring is an excellent time to go and scout for cogongrass and get a jump on this invasive for several reasons.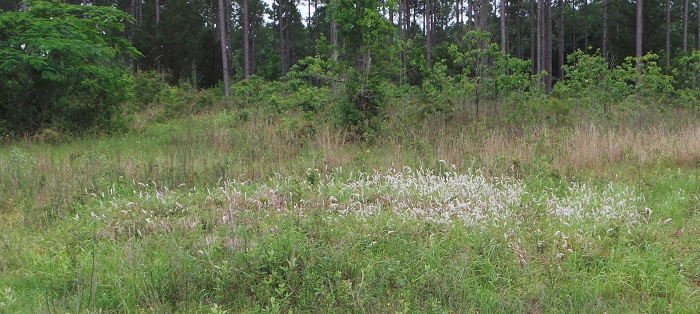 One feature of cogongrass that is very distinctive is the seed head. In spring cogongrass flowers and puts up a cottony white seed head. These seed heads look like an elongated fluffy white tuft on a tall stalk. Once you have seen them for the first time you will instantly recognize this invasive grass. If cogongrass has been mowed, it can sometimes be hard to spot especially in a pasture. In spring the seed heads will quickly draw your attention to an area infested with this grass. It is very distinctive, and you do not see other grasses with this type of seed head the same time of year.
Other distinguishing features of cogongrass include a bright green color sometimes with red edges. In the spring the new growth of cogongrass is very prominent and stands out due to its bright color and usually faster growth compared to other grasses. The midrib of the grass blade is also usually offset to one side, another identifying feature. If you have a shovel handy you can dig up a small amount and you will notice thick rhizomes with sharp pointed tips. Once you learn to identify cogongrass and know what you are looking for; you can go out on your spring cogongrass patrol to identify any areas of infestation.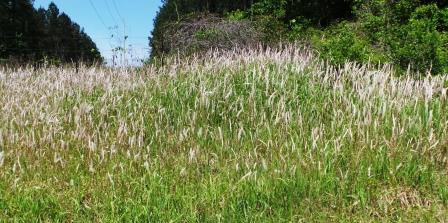 Once you have identified an infestation you need to do three things: mark the impacted area with a flag or other noticeable method, record the location (by description or GPS), and develop a treatment plan. Marking and recording the location of cogongrass infestations, especially a small spot that is new, is critical to the success of control efforts. Cogongrass is tough and requires multiple treatments with herbicide to effectively control it and hopefully eliminate the infestation. This means you need to know where a patch is, be able to relocate and monitor it, and consistently treat the same spot to ensure you achieved complete control. Cogongrass control is easier when the spot is small and has not become well established. With small spots it can be difficult to locate the spot again the next year, especially after a round of herbicide treatment, so good marking combined with a GPS location or description is essential. Once you have gone back to a spot several years and the spot has not come back after treatment; you can consider the spot controlled. If you stop treatment and monitoring before cogongrass has been controlled for several years, the infestation will return from remaining rhizomes and spread all over again.
Consistent treatment with effective herbicides is the best way to ensure cogongrass is controlled on your property. If you locate some while scouting this spring be prepared to start a treatment program. Cogongrass responds to herbicides with the active ingredients glyphosate or imazapyr. These can be used alone or in combination. The spring and fall are the two treatment windows that are most effective. If you treat in the early spring when new growth is vulnerable you can sometimes prevent seed heads from maturing. You can also get some control that can help prevent heavy growth over the summer, which can be an advantage if you have to mow or maintain the area. Spring treatment is usually best accomplished with glyphosate alone, imazapyr alone or a mixture of both can be used.
Once we progress into summer, treatments with herbicide will mostly top kill the grass and do not provide effective control. Treatment in the fall with imazapyr alone or in combination is the most effective treatment method. If you identify infestations in the spring you can mark them and come back in the fall to get the most bang for your buck with treatments. You can apply a spring and fall treatment in one year if you want to accomplish some control in the spring, but this method is not necessarily more effective than the fall treatment alone. When using imazapyr herbicide you should be aware that this is soil active and has the potential to damage surrounding vegetation and hardwood trees that are in and near the treatment area. Pines are tolerant of imazapyr but can be damaged if high rates are used, and longleaf pine is more sensitive than others. When treating cogongrass with imazapyr be aware that damage to other vegetation could occur. If the cogongrass is in an area with hardwood trees or other sensitive vegetation glyphosate alone is a good alternative herbicide treatment. When using any herbicide be sure to read and follow the label correctly, follow all label directions, and wear proper protective equipment. There are several IFAS EDIS publications on cogongrass control which provide more detailed information: for control in pasture areas follow this link SS-AGR-52/WG202: Cogongrass (Imperata cylindrica) Biology, Ecology, and Management in Florida Grazing Lands (ufl.edu) and for control in forested areas follow this link FR342/FR411: Biology and Control of Cogongrass (Imperata cylindrica) in Southern Forests (ufl.edu) . If you identify cogongrass on your property these publications will help you develop a treatment plan to control it. Early detection and treatment when infestations are small is key to getting this nasty invasive under control. Take advantage of this spring to identify, mark, and treat any cogongrass that may be getting a foothold on your property before it becomes a major infestation.