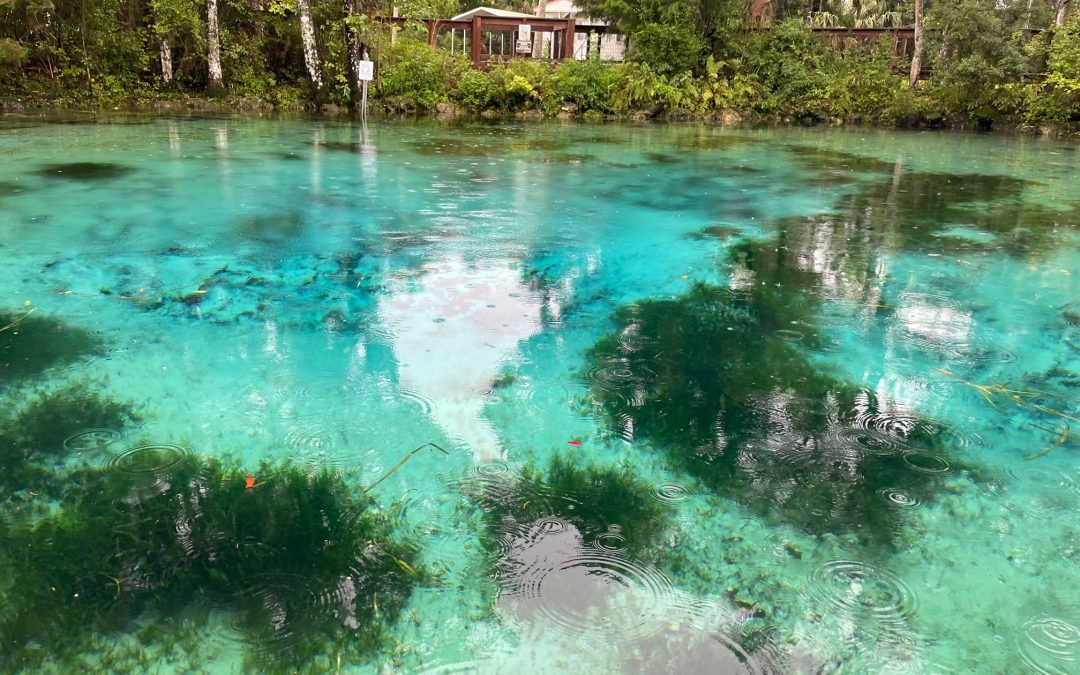 There is just SO much water in Florida. Besides the tremendous amount of rain and 1,350 miles of coastline and beachfront, there are endless bays, bayous, creeks, rivers, and streams. In this state, it is extraordinarily difficult to live more than a few miles from a body of water. Among the the coolest (literally) types of water bodies in Florida, though, are our springs.  Like brilliant gemstones, the state's 700+ springs dot the Florida landscape like a strand of sapphires.
While we have springs bubbling up all over northwest Florida in areas where the underground water table meets the surface, larger springs are more common as you move east and south. Some parts of north Florida and most of the peninsula are built on a limestone platform, known by the geological term "karst." Limestone is composed of calcium carbonate, which has a porous and easily degradable chemical structure. When this barrier is breached, it allows the cold groundwater an opening directly to the surface water—hence a spring. (Fun fact—there are surface water streams that actually disappear into a spring—these are called swallets, operating as the reverse version of a spring!)
A few of the largest springs in northwest Florida are Vortex, Ponce de Leon, and Morrison Springs, found in Holmes and Walton County. Vortex is a privately operated water park and scuba diving/training facility. It is where the red and white "diver down" flag was invented and has a complex underwater cavern system. Ponce de Leon and Morrison Springs are state and county-run parks with a more natural feel, surrounded by woods and basic infrastructure for access. Morrison will especially wow visitors with its tremendous turquoise coloring.
Before a meeting in Crystal River last week, I paddled and snorkeled through the famous Three Sisters Spring. As part of Crystal River National Wildlife Refuge, it is a popular but highly protected area. Three Sisters is well-known as a manatee gathering place, especially in winter, but during my visit was mostly unoccupied. The color was striking, though. Why do so many of these springs have such brilliant blue and turquoise coloring? The phenomenon is essentially the same as the blue-green Gulf waters in the Panhandle. The reflection of the sky on a sunny day with the backdrop of that pure white sand causes the water to reflect a color that inspired the nickname "The Emerald Coast." In springs, the white calcium carbonate in limestone breaks down into tiny crystals, mixing with the water and reflecting the vivid shades of blue.
Besides their beauty, clarity, recreational, and wildlife value, springs pump 8 billion gallons of fresh water a day of into Florida ecosystems. Seagrass meadows in many of these springs are lush. Because they are literal windows into the underground aquifer, they are extremely vulnerable to pollution. While many springs have been protected for decades, others were seen as places to dump trash and make it "disappear." Many have been affected by urban stormwater and agricultural pollution, losing their clarity, reducing dissolved oxygen levels, and prompting massive cleanup and buffer protection zones.
On one of these hot summer days in Florida, take the time to visit our incredible springs. While it may not be the literal "Fountain of Youth," swimming in a spring is a unique and invigorating experience, and a beautiful way to get off the beaten path. A comprehensive guide to Florida springs, research, and statewide protection initiatives can be found at the Florida Department of Environmental Protection's springs website.