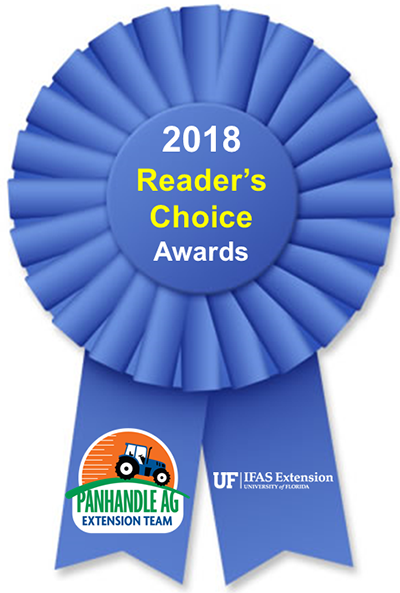 The Panhandle Ag Team would like to thank our subscribers for your regular interest and support of Panhandle Ag e-News, and for your helping to spread the word so more producers sign up each week.The Panhandle Ag e-News project began in April of 2012. Over the past seven years, 1,433 articles have been published that are searchable by topic area, keyword, author, or by using the search box provided on the site. The Panhandle Agriculture Extension Team is made up of 40 county agents and state specialists that serve commercial agriculture in Northwest Florida.
In 2018, the Panhandle Ag faculty team contributed 229 articles that provided timely information to farmers and ranchers related to farm management, pest management, best management practice recommendations, plus numerous announcements of upcoming educational events.  Each week links to the most recently published articles were shared through 41 electronic newsletters, as well as through Facebook and Twitter Accounts.   In 2018, readership increased 26% over 2017 with 292,654 page views (802/day), and the number of subscribers rose 4% to 4,396 people.
Readers Choice Awards
At the start of each year the statistics are compared for the articles that were published the previous year, with the authors of the most read articles given recognition for the Reader's Choice Awards.  There were a number of the articles that were very popular this year, but there were several articles that really stood out. Each week a short YouTube video was shared under the title of "Friday Features."  In general these videos related to some form of agriculture or farming humor.  The following are the 30 most read articles that were published in 2018, and the 10 most popular Friday Feature videos.
1st Place
Doug Mayo, Jackson County Extension Director wrote a short article that shared the USDA's Meat Animal Research Center (MARC) recently revised  Across-Breed EPD Table, which is a performance comparison chart for 18 popular cattle breeds.  This is a very useful tool to compare the EPD of bulls from different breeds.  Doug's article was read 2,218 times in 2018.
2nd Place
Doug Mayo, Jackson County Extension Director, provided and overview of the FDACS and UF/IFAS Extension assessments of damages to farms in the Panhandle caused by Hurricane Michael.  Doug's article was read 1,420 times in 2018.
3rd Place
Nicolas DiLorenzo, UF/IFAS Cattle Nutrition Specialist, unveiled an new spreadsheet tool to help ranchers select the right supplements to compliment hay or baleage, based on the results of a basic a forage test.  Nicolas' article was read 988 times in 2018.
Honorable Mention
Kalyn Waters, Holmes County Extension Director, has done a series of articles highlighting problematic pasture weeds.  The article highlighting perilla mint was the most popular one in 2018 with 772 page views.
Other popular articles included:
5 – Bahiagrass Pasture Fertilization – Is it Worth the Money? – 748
6 – Controlling Pocket Gophers in Hay Fields – 639
7 – Federal Programs Available to Help Farmers and Ranchers Recover from Hurricane Michael – 617
8 – 2018 Southern Forage and Hay Outlook – 574
8 – Documentation for USDA-FSA Disaster Relief Programs – 574
9 – Is it Profitable to Add Weight and Sell Heavier Feeder Calves this Year? – 567
10 – Sunn Hemp for Forage or Wildlife Food Plots – 513
11 – Weed of the Week: Arrowleaf Sida "Teaweed" – 490
12 – Understanding Your Generic Base Conversion Options with the New Seed Cotton Program – 470
13 – Using Solar Energy to Pump Water for Livestock – 466
14 – Hurricane Preparation for Your Farm – 404
15 – Fungicide Options for Peanut Producers due to the Expected Chlorothalonil Shortage in 2018 – 391
16 – UF/IFAS Economists: Hurricane Michael Caused $158 Million in Florida Agricultural Production Losses – 377
17 – Useful Smartphone Apps for Cattle Ranchers – 371
18 – Emergency Money for Farm and Business Owners Impacted by Hurricane Michael – 368
19 – Weed of the Week: Chinese Tallow – 339
20 – Atmospheric Temperature Inversions – Why Are They Important To Farmers? – 336
21 – Carinata SPARCs Interest as a Winter Crop for the Southeast U.S. – 324
22 – Limpograss: A Potential Forage Stockpiling Option for North Florida – 323
23 – FSA Offices Accepting Applications for Assistance from Producers Affected by 2017 Hurricanes – 311
24 – Rapid Response Team Deployed to Investigate Peanut Collapse – 310
25 – Farm Bill Seed Cotton and Hurricane Program Updates – 298
26 – Apopka Weevil Confirmed in Jefferson County Nursery – 295
27 – Grass Carp – A Biological Control to Manage Pond Weeds – 292
28 – Florida Forest Service Requirements for Open Burning in Hurricane Michael Impacted Areas – 290
29 – Weed of the Week: Spiderwort – 269
29 – Prices and Payments from the New Farm Bill Program for Cotton – 269
30 – Weed of the Week: Broomsedge – 260
Top 10 Friday Feature Videos:
1 –  Almond Dairy Farming – 930 (Yes it is very funny)
2 – Cows Assist Deputies with Car Thief Arrest – 741
3 –  PTO Quick Connector – 498
4 – The Ride Over Gate – 407
5 –  Deer Farming in the Panhandle – 396
6 – Satsumas from Farm to Schools – 249
7 – Corn that Acquires Its Own Nitrogen –  216
8 – Shenandoah Dairy Video Farm Tour – 199
9 – Peterson Brother's Tractor Stuck Parody – 180
10 – Karl Kressman's the Cow Truck & the Convertible – 171
You might want to also check out the most popular article from previous years:
Latest posts by Doug Mayo
(see all)