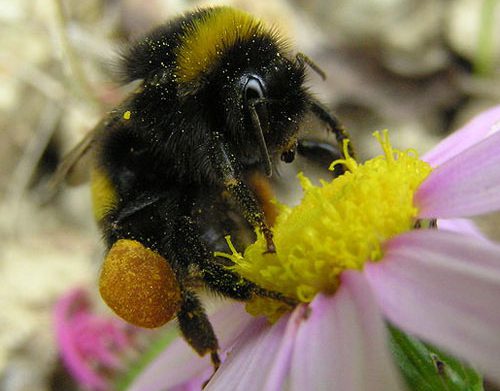 The oncoming of spring is heralded by several events. Wildflowers bloom, temperature rises, and insects awaken from their wintry slumber. The latter of these is the impetus for this article. I'm sure you have heard the buzzing of the bees already, but there is more to come. Florida is host to 315 species of native bees in addition to honey bees (Apis mellifera) which are a non-native species. Native bees in Florida are separated into six families, fulfilling several niches within our landscape. This article is only focused on a few of these.
The Sweat Bees
The sweat bees fall into the family Halictidae. These vary greatly in appearance and size with the majority being very small. Often metallic black, but may also be seen in shades of green, blue, or purple they are hard to miss in your landscape. Most sweat bees are ground nesting though some can be found above. Wildflowers, stone fruits, and sunflowers are the primary nectar sources for these bees particularly in early spring.

Bumble Bees
Bumble bees (Bombus spp.) are in the family Apidae. Ground dwelling, the queen overwinters in the soil emerging in early spring to feast on wildflower nectar. Often mistaken as carpenter bees (Xylocopta spp.), they are distinguishable by the hairs covering their bodies which are lacking in carpenter bees. They are one of two bee species seen carrying pollen sacks, honey bees being the other. All but one of the five species in this genera may be found in the Panhandle where they are important pollinators for many native and ornamental plants.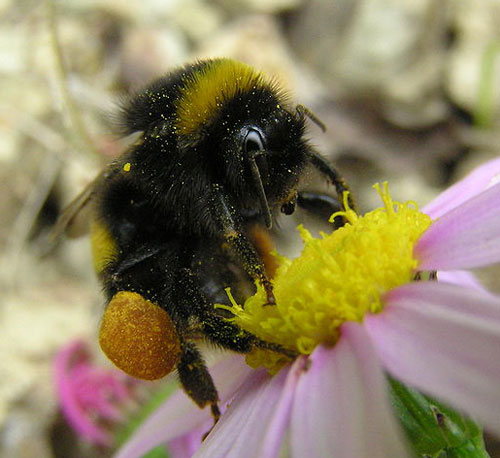 Mason Bees
One of our more unique species, Mason bees of family Megachilidae live above ground lining their nests with mud. Solitary by nature, these are prominent pollinators of fruit trees and blueberries. A variety of color makes them difficult to even identify as a bee. They often come in dark blue, black, or white striped. Much like honeybees, some species of mason bees are purchased from online sources specifically for orchards.

Carpenter Bees
Carpenter bees are the final subject covered here and are split into two subfamilies. Large carpenter bees (Xylocopta spp.) chew their nests into solid wood. That the wood is sometimes fence posts, water tanks or your home means that this insect may be an economic pest. These are large and as mentioned above often mistaken for bumble bees. Small carpenter bees (Ceratina spp.) are differentiated mainly by size as they are much smaller than the large carpenter bee. They may be a variety of colors as well and nest by hollowing out the pith of broken or burnt plant stems. As they make their nests in already broken plant tissue, they are not considered of economic importance.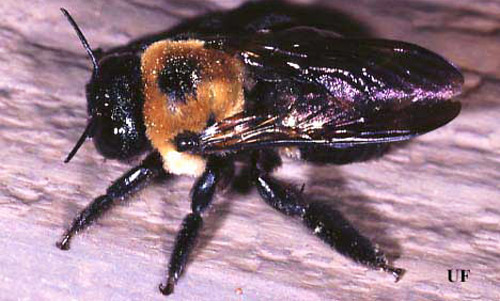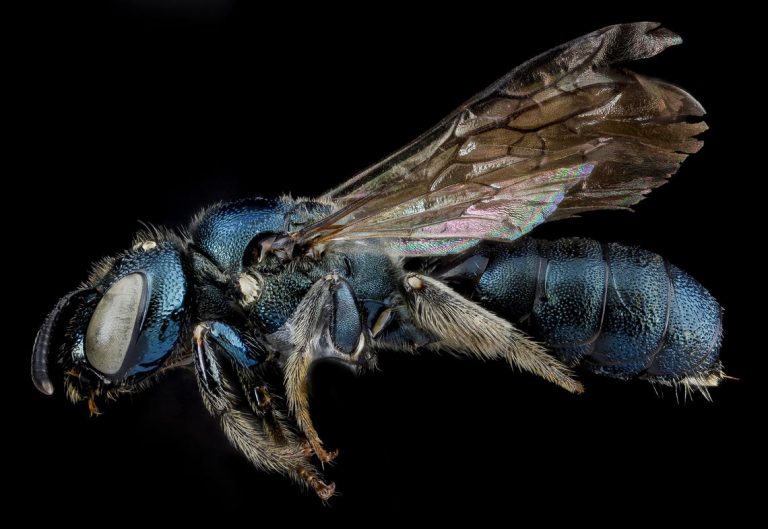 Conclusion
Native bees are an important part of pollination in the Florida Panhandle. It is worthwhile to get to know which species are active in your landscape. Provide habitat and nectar to them, and they will help your plant life bloom. For more information on creating habitat for native pollinators, see this Ask IFAS document, or contact your local extension agent for additional information on this and any topic regarding your gardens and more.