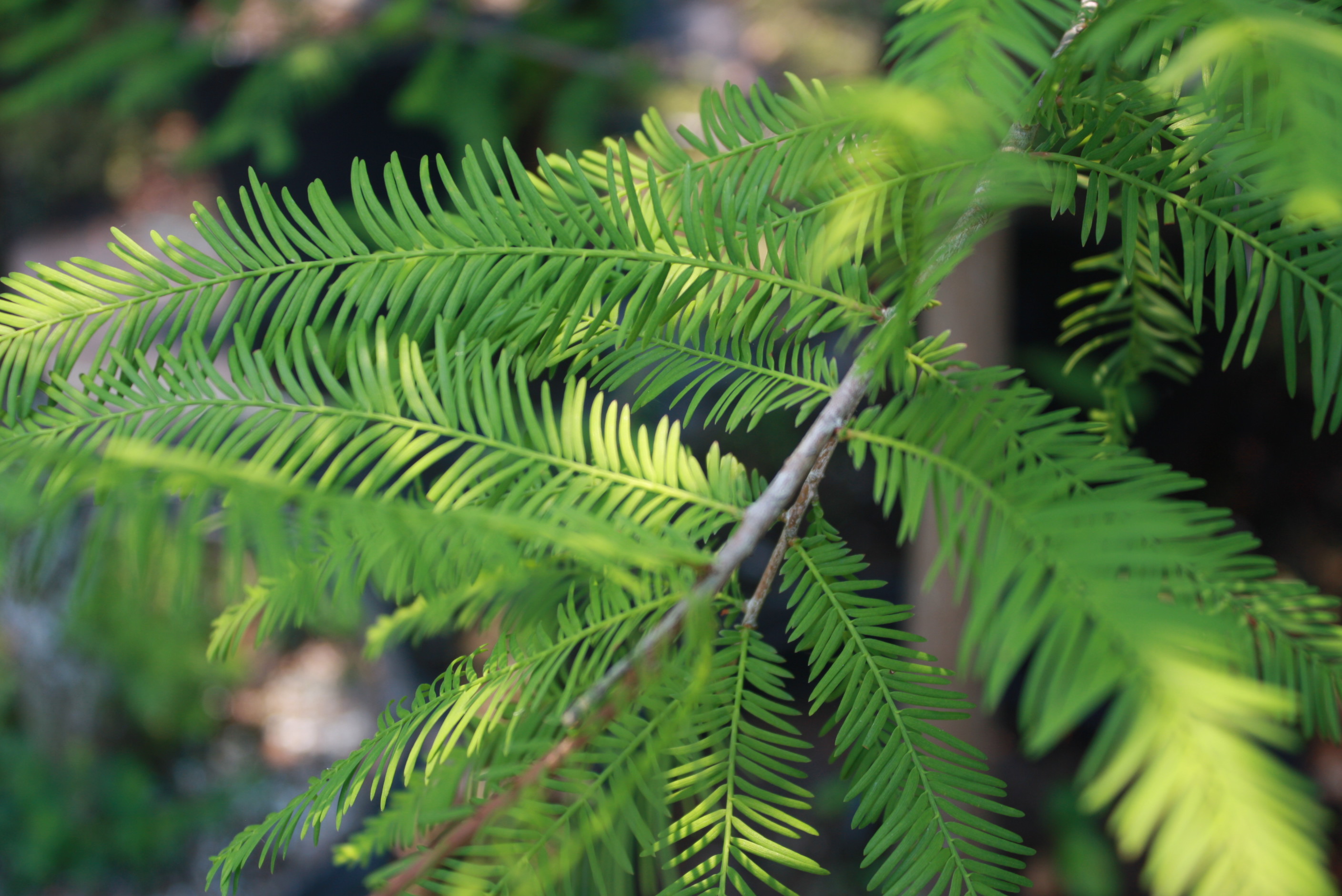 Lately, to survive in Panhandle landscapes, plants must be able to tolerate extremes.  Summertime temperatures over 100 degrees F, hurricane force winds up to 150 mph, deluges of 1' of rain in a single day, spring and fall month-long droughts, and the wild winter weather swings we're experiencing right now.  That's quite a tall order for most plants to bear, however one of our best native trees handles all of the above conditions with relative ease, the stately Bald Cypress (Taxodium distichum).  Though Bald Cypress primarily inhabits flatwood "dome" swamps and areas along the periodically flooded edges of waterways and other wetlands and most folks think of it as just "water tree", the species is more than capable of handling anything Florida's climate can throw at it, including thriving in home landscapes.
While there are lots of pretty trees in the Panhandle's natural areas, not many of them possess the longevity, adaptability and well-behaved nature that makes Bald Cypress a great landscape tree.  Bald Cypress are capable of living for hundreds of years and grow steadily to a normal landscape height of 50-60', truly perfect for a specimen shade tree.  The species also possesses a strong, wide spreading root system and a special above ground root adaptation, known colloquially as "knees", that enable Cypress to reach deep to outlast droughts, grow unfazed even when the water rises, inhabit many different soil types, and resist hurricane force winds.  While some homeowners object to the presence of Cypress knees in their yard, as the above ground structures can damage mower blades and make for uneven terrain, I've found an easy solution is to simply keep the area under the tree's canopy mulched and forgo mowing there altogether.  It looks nice and means less grass to cut!
Bald Cypress isn't just a big, tough, adaptable tree, it's also gorgeous.  The bright green, finely cut, featherlike leaves give the trees an airy appearance in the spring and summer, nicely offsetting common coarse textured yard trees like Magnolia, Sycamore, Red Maple, and others.  However, it is in the fall and winter when Bald Cypress really shines.  Though Florida is not known for its fall foliage, Cypress is a notable exception!  When the weather gets cool, Bald Cypress leaves transition from green to a yellowish orange before finally arriving at a beautifully unique, rusty, orange-brown color.  There isn't another species out there with a similar show.  The foliage holds deep into winter before finally falling to reveal the attractive branching structure, sweeping buttressed lower trunk, and peely gray bark underneath, completing the four-season show.
In addition to being a near perfect landscape tree, Bald Cypress embodies much of what folks admire about life in the South, living the slow life near the water and enduring everything that's thrown at it with grace and strength.  Other than possibly the Live Oak, Bald Cypress is the tree that comes to mind first when I think about the tree that most represents where we come from.  From their majestic, buttressed trunks, to the Spanish Moss that hangs loose from their limbs, to the slow, dark water than meanders nearby, the species is iconically Southern.   When looking for an impossibly tough, adaptable, and attractive tree, one could do a whole lot worse than Bald Cypress.
If you have any questions about Bald Cypress, other landscape tree options, or any horticultural topic, please reach out to your local UF/IFAS County Extension Office.  Happy gardening!