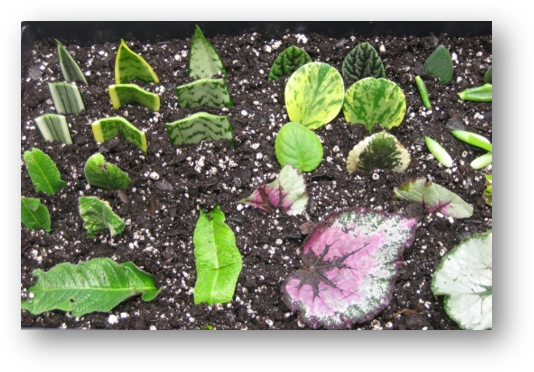 It's always fun to add new plant to the landscape.  And it's even more fun to propagate your own plant material.  The question is, what plant propagation method is best?  The answer depends on a number of factors such as:
How much time and money is available?
Is a uniform crop desired or is trait variation preferred?
What is the plant species being propagated?
Plants can be propagated either by seed (sexual propagation) or by segments of vegetative material (asexual propagation).  Sexual propagation takes far less time and effort because new plants are being started from the seeds (offspring) of parent plants.  This type of propagation promotes genetic diversity because offspring may not have the exact characteristics of the parent plants.  Sexual propagation increases the possibility of hybrid vigor, which is the improved quality of plant material to that of parent plants.  Asexual propagation usually takes more time, but generally ensures that propagated plants will maintain the same characteristics as the parent plant.  For some species it may be the only way to pass on desired traits to subsequent generations and it may be the only way to propagate certain species.  A plant produced vegetatively can become larger than a plant produced by see in the same amount of time.
Tips for Successful Sexual Propagation
Seed Collection – Seeds should be collected when fruit is ripe, just before they fall to the ground.  In general, seeds should be cleaned, dried, and stored at 40 degrees Fahrenheit (in a refrigerator).  However, palm seeds should be planted immediately after harvesting and cleaning.
Seed Dormancy – Some seeds have thick seed coats the inhibit germination.  Some seeds need to be scarified (breaking of the seed coat) and/or stratified (stored in a specific environment) in order to germinate.
Seed Sowing – Seeds can be germinated in flats or other suitable containers in a seed starting media.  Seeds should be planted at a depth of two to three times their diameter, but no deeper than 3 inches.  Cycad seeds should be planted just below the medium surface.
Tips for Successful Asexual Propagation – In general, asexual propagation is the propagation of plant material from cuttings of stems, leaves, and/or roots.
Rooting Hormones – Increase rooting percentage, hasten root initiation, increase the number of roots per cutting, and increase root uniformity.  Auxin based rooting hormones (Indolebutyric acid (IBA) and Naphthalenacetic acid (NAA)) are available in dry or liquid forms.  It is important to use the correct concentration for the particular plant species because over application can cause damage to cutting base.
Sticking Cuttings – Cuttings should be stuck in the medium only deep enough to support the cuttings and hold them upright (1/2″ to 1″ deep).
Post-Rooting Care – Fertilization should be applied as soon as roots emerge from the cuttings.  However, overfetilization can increase soluble salts and burn roots.
Examples of Asexual Propagation
Softwood Cuttings – Taken from woody plants usually three to four weeks after a new flush of growth.  Commonly propagated species using this method include: crape myrtle; magnolia; oleander; azalea; jasmine; and boxwood.
Semihardwood Cuttings – Similar to softwood cuttings, but the lower portion of the cutting has become lignified (woody).  Usually taken from new shoots six to nine weeks after a flush of growth.  Commonly propagated species using this method include: camellia; pittosporum; junipers; and some hollies.
Hardwood Cuttings – Taken from the previous season's growth, just before or during the dormant period.  Commonly propagated species using this method include narrow-leaved evergreens and deciduous species during the dormant season after leaves have dropped.
Leaf Cuttings – Comprised of only the leaf blade or the leaf blade and petiole (leaf stalk).  Cuttings are stuck upright in the propagation medium with the basal end (petiole end) of the leaf inserted into the propagation medium.  Commonly propagated species using this method include begonias and peperomias.
Root Cuttings – Taken in late winter or early spring from two to three-year-old plant material.  Plants propagated by root cuttings may not reproduce true to type if they are budded or grafted.  Commonly propagated species using this method include: plumbago; bayberry; oakleaf hydrangea; and yucca.
This article provides only a brief overview of propagation methods and techniques.  For more information on plant propagation please visit University of Florida Plant Propagation Glossary or Plant Propagation Techniques for the Florida Gardener.  Please be advised that some plant material is patented and it is illegal to propagate patented material without written authorization or licensing of the patent holder. If it is patented, a notation of patent number will be on the tag.