Summer is here, along with its heat, humidity, drought and stress! One easy way to garden during summer is to use succulents and other drought adapted plants.
Succulents are heat-adapted, water-efficient plants often associated with deserts and dunes. Usually succulents have thick leaves or stems that store water. A cactus is a familiar type of succulent, as are agave, aloe, yucca as well as bromeliads like dyckia. Other dry-adapted plants can retreat into bulbs, rhizomes or other thick plant parts to go dormant until rains resume. A few other strategies used by plants to save water include: waxy or hairy coverings to reduce water loss; extensive root systems to absorb water; and silver- or blue-colored leaves and stems to reflect light and reduce heat.
Succulents' tough qualities make them well-adapted to the harsh conditions of urban living amid concrete, brick, asphalt and other "hardscapes". This adaptability translates into low maintenance since they need little or no irrigation, fertilization, pruning or spraying. Do you like container gardens? Succulents are almost the perfect container plant, because they hardly ever need watering!
Above and beyond their toughness, succulents capture our imaginations because they are often dramatic, dangerous and slightly unpredictable. Drama stems from the architectural forms of many thick-leaved plants like agave. Danger arises from the thorns and spines of plants like cactus. Unpredictability results from bulbs and perennials that can quickly explode into flower, and then disappear just as suddenly. Often succulents have outrageous flowers with wild, bold colors and strange shapes!
While many succulents are native to deserts, others are Florida natives where they can be found in coastal dunes or in areas with sandy soils that have little water-holding capacity. For example, many native yuccas are excellent succulents for use in dry gardens or in containers.
For best growth and appearance, most succulents require well-drained soil and full sun (at least 6 hours of direct sunlight per day). Succulents are ideal plants for garden beds near roads, sidewalks, driveways and south-facing walls because they tolerate limited soil moisture, higher soil pH and reflected heat and light usually associated with these areas. On the other hand, try to avoid planting succulents in shady areas, wet areas, low areas that collect water and areas with heavy soils.
Summer gardening is easy with succulents!
For more information:
Agave and Yucca: Tough Plants for Tough Times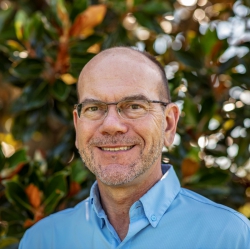 Latest posts by Gary Knox
(see all)