Black Skimmers and Least Terns, state listed species of seabirds, have returned along the coastal areas of the northern Gulf of Mexico! These colorful, dynamic birds are fun to watch, which can be done without disturbing the them.
What is the difference between a seabird and shorebird?
Among other behaviors, their foraging habits are the easiest way to distinguish between the two. The seabirds depend on the open water to forage on fish and small invertebrates. The shorebirds are the camouflaged birds that can found along the shore, using their specialized beaks to poke in the sandy areas to forage for invertebrates.
Both seabirds and shorebirds nest on our local beaches, spoil islands, and artificial habitats such as gravel rooftops. Many of these birds are listed as endangered or threatened species by state and federal agencies.
Adult black skimmers are easily identified by their long, black and orange bills, black  upper body and white underside. They are most active in the early morning and evening while feeding. You can watch them swoop and skim along the water at many locations along the Gulf Coast. Watch for their tell-tale skimming as they skim the surface of the water with their beaks open, foraging for small fish and invertebrates. The lower mandible (beak) is longer than the upper mandible, this adaptation allows these birds to be efficient at catching their prey.
Adult breeding least terns are much smaller birds with a white underside and a grey-upper body. Their bill is yellow, they have a white forehead and a black stripe across their eyes. Just above the tail feathers, there are two dark primary feathers that appear to look like a black tip at the back end of the bird. Terns feed by diving down to the water to grab their prey. They also use this "dive-bombing" technique to ward off predators, pets and humans from their nests, eggs and chicks.
Both Black Skimmers and Least Terns nest in colonies, which means they nest with many other birds. Black skimmers and Least Terns nest in sandy areas along the beach. They create a "scrape" in the sand. The birds lay their eggs in the shallow depression, the eggs blend into the beach sand and are very hard to see by humans and predators. In order to avoid disturbing the birds when they are sitting on their nests, known nesting areas are temporarily roped off by Audubon and/or Florida Fish and Wildlife Conservation Commission (FWC) representatives. This is done to protect the birds while they are nesting, caring for the babies and as the babies begin to learn to fly and forage for themselves.
Threats to these beautiful acrobats include loss of habitat, which means less space for the birds to rest, nest and forage. Disturbances from human caused activities such as:
walking through nesting grounds
allowing pets to run off-leash in nesting areas
feral cats and other predators
litter
driving on the beach
fireworks and other loud noises
Audubon and FWC rope-off nesting areas to protect the birds, their eggs and chicks. These nesting areas have signage asking visitors to stay out of nesting zones, so the chicks have a better chance of surviving. When a bird is disturbed off their nest, there is increased vulnerability to predators, heat and the parents may not return to the nest.
To observe these birds, stay a safe distance away, zoom in with a telescope, phone, camera or binoculars, you may see a fluffy little chick! Let's all work to give the birds some space.
Special thanks to Jan Trzepacz of Pelican Lane Arts for the use of these beautiful photos.
To learn about the Audubon Shorebird program on Navarre Beach, FL check out the Relax on Navarre Beach Facebook webinar presentation by Caroline Stahala, Audubon Western Florida Panhandle Shorebird Program Coordinator:
In some areas these birds nest close to the road. These areas have temporarily reduced speed limits, please drive the speed limit to avoid hitting a chick. If you are interested in receiving a "chick magnet" for your car,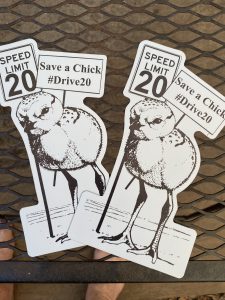 to show you support bird conservation, please send an email to: chrismv@ufl.edu, Please put "chick magnet" in the subject line. Please allow 2 weeks to receive your magnet in the mail. Limited quantities available.
Latest posts by Chris Verlinde
(see all)