In Part 5 of this series, we looked at a group of invertebrates that few people see, and no one is looking for – worms. But in this article, we will be looking at a group that seagrass explorers see frequently and some, like the bay scallop, we are actually looking for – these are the mollusks.
With over 80,000 species, mollusk are one of the more successful groups of animals on the planet. Most fall into the group we call "seashells" and shell collection has been popular for centuries. There is an amazing diversity of shapes, sizes, and colors with the snail and clam shells found in coastal areas worldwide. As snorkelers explore the seagrass beds it is hard to miss the many varieties that exist there.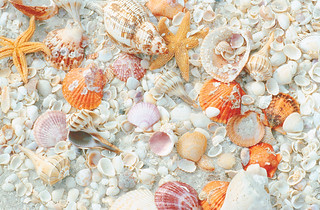 One group are the snails. These typically have a single shell that is coiled either to the right or left around a columella. Some are long and thin with a extended shell covering their siphon (a tube used by the animal to draw water into the body for breathing). Others are more round and ball-shaped. Each has an opening known as the aperture where the animal can extend its large fleshy foot and crawl across the bottom of the bay. They can also extend their head which has an active brain and eyes. Snails lack teeth as we know them, but many do have a single tooth-like structure called a radula embedded in their tongue. They can use this radula to scrape algae off of rocks, shells, and even grass blades. Others will use it as a drill and literally drill into other mollusk shells to feed on the soft flesh beneath.
In the Pensacola area, the crown conch (XXX) is one of the more common snails found in the grasses. This is a predator moving throughout the meadow seeking prey they can capture and consume. Lighting whelks, tulip shells, and horse conchs are other large snails that can be found here. You can often find their egg cases wrapped around grass blades. These look like long chains, or clusters, of disks, or tubes, that feel like plastic but are filled with hundreds of developing offspring.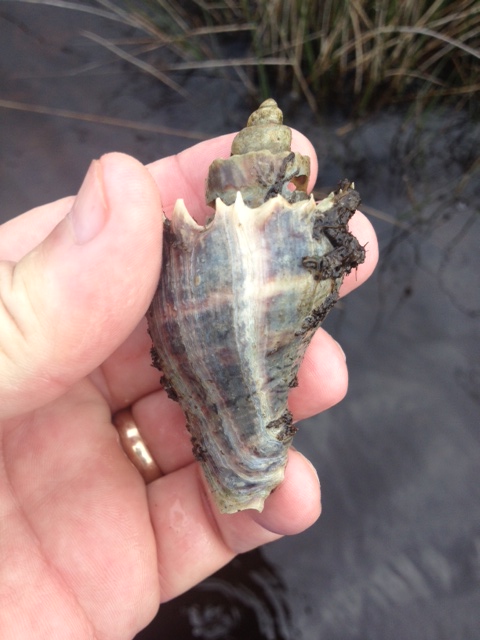 A close cousin of the snail are the sea slugs and there is one that frequent our grassed called the "sea hare". This large (6-7 inch) blob colored a mottled green/gray color, moves throughout the grass seeking vegetation to feed on. When approached, or handled, by a snorkeler, they will release a purple dye as a "smoke screen" to avoid detection. Snails secrete a calcium carbonate shell from a thin piece of tissue covering their skin called a mantle. The genetics of the species determines what this shell will look like, but they are serve as a very effective against most predators. Most… some fish and others have developed ways to get past this defense. But the slugs lack this shell and have had to develop other means of defense – such as toxins and ink.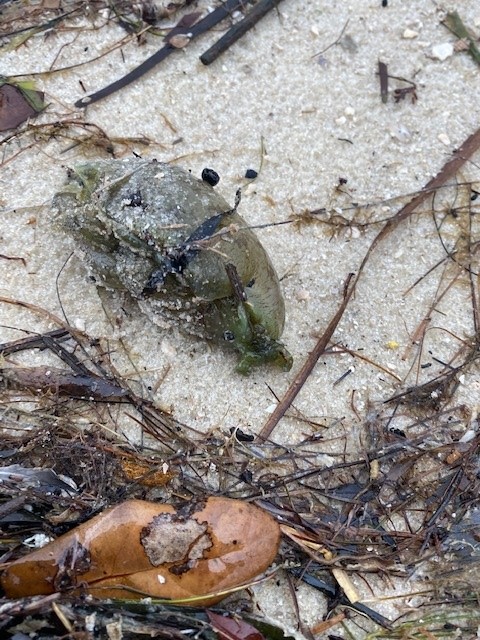 A separate class of mollusk are the bivalves. These do not move as well as their snail cousins but there are NO access points to the soft body when the shell is completely closed – other than drilling through. One creature who is good at opening them are starfish. Seabirds are known to drop these on roads and buildings trying to crack them open. But for the most part, it is a pretty good defense.
Bivalves possess two siphons, one drawing water in, the other expelling it, and use this not only for breathing but for collecting food – all bivalves are filter feeders. They will, at times, inhale sand particles that they cannot expel. The tend to secrete nacre (mother of pearl – shell material) over these sand grains forming pearls. Most of these are not round and are of little value to humans. But occasionally…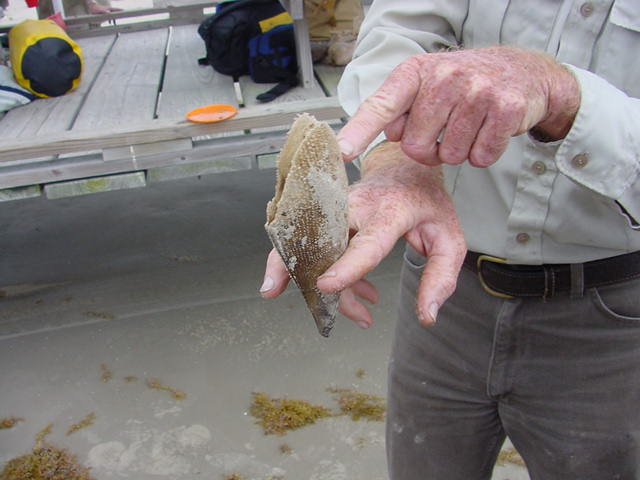 Oysters may be one of the more famous of the bivalves, but they are not as common in seagrass beds as other species. Most of our seagrass species require higher salinities which support both oyster predators and disease, thus we do not see as many in the grasses. Clams are different. They do quite well here, though we do not see them often because they bury within the substrate. We more often see the remaining shells after they have been consumed, or otherwise died. The southern quahog, pen shell, and razor clam are clams common to our grassbeds.
The one group sought after are the bay scallops. Scallops differ from their bivalve cousins in that they have small blue eyes at the end of each ridge on the shell that can detect predators and have the ability to swim to get away. They usually sit on top of the grasses and require them for their young (spat) to settle out. They are a very popular recreational fishery in the Big Bend area where thousands come very year to get their quota of this sweet tasting seafood product.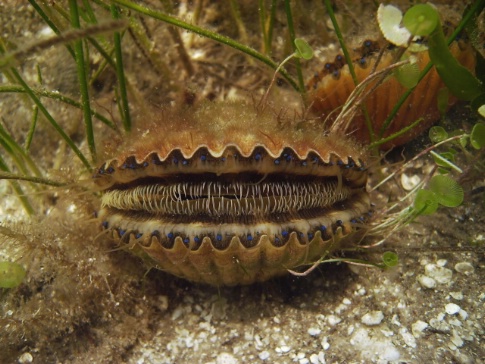 There is another group of mollusk that are – at times – encountered in the seagrass beds… the cephalopods. These are mollusk that have lost their external calcium carbonate shells and use other means to defend themselves. This includes speed (they are very fast), color change (they have cells called chromatophores that allow them to do this), literally changing the texture of their skin to look and feel like the environment they are in at the moment, and expelling ink like some of the slugs. This includes the octopus and squid. Both are more active at night but have been seen during daylight hours.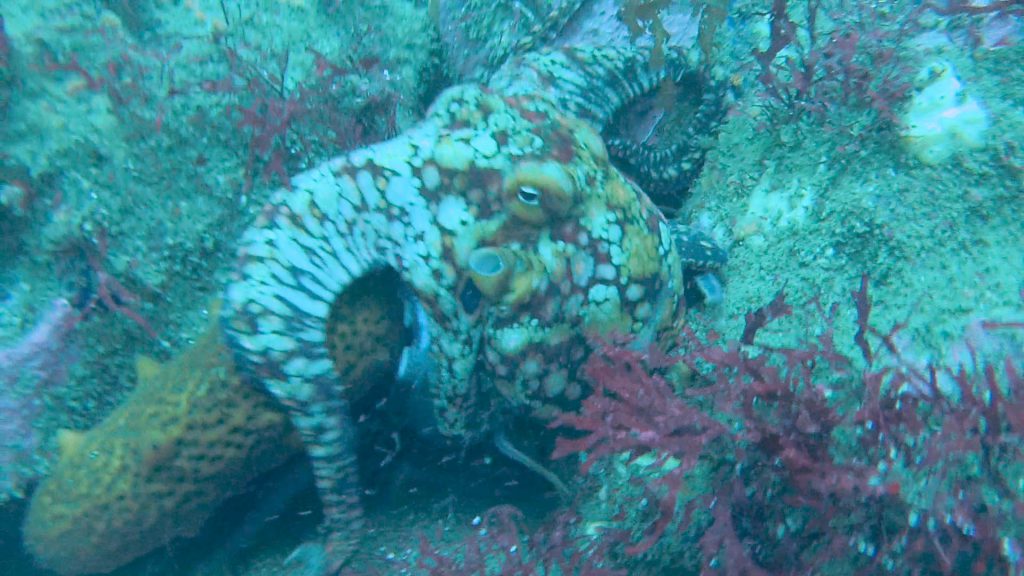 As mentioned, shell collecting is very popular and finding mollusk shells in the grassbeds is something many explorers get excited about. You should understand that taking a shell with a living organism still within is not good. Some areas, including state parks, do not allow the removal of empty ones either. You should check before removing.
Latest posts by Rick O'Connor
(see all)