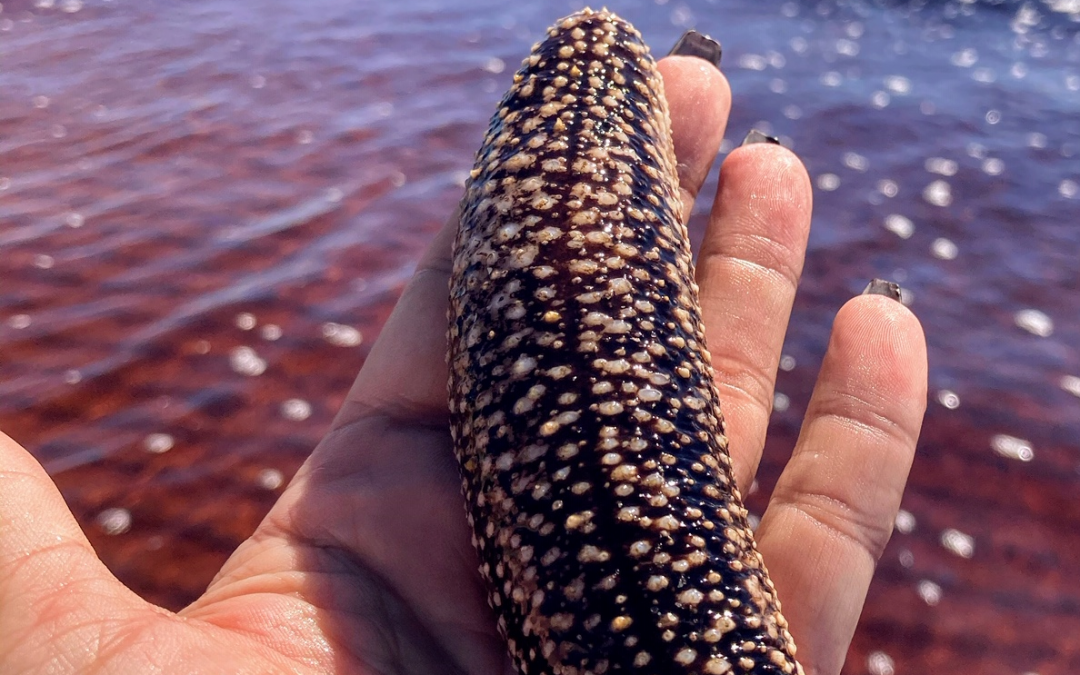 That's the question from a recent group exploring what washed up on the beach after Hurricane Sally.
They have no eyes, nose or antenna.  Yet, they move with tiny little legs and have openings on each end.  Though scientists refer to them as sea cucumbers, they are obviously animals.  Sea cucumbers get their name because of their overall body shape, but they are not vegetables.
There are over 1,200 species of sea cucumbers, ranging in size from ¾" to more than 6' long, living throughout the world's ocean bottoms.  They are part of a larger animal group called echinoderms, which includes starfish, urchins and sand dollars. Echinoderms have five identical parts to their bodies.  In the case of sea cucumber, they have 5 elongated body segments separated by tiny bones running from the tube feet at the mouth to the opening of the anus.  These squishy invertebrates spend their entire life scavenging off the seafloor.  Those tiny legs are actually tube feet that surround their mouth, directing algae, aquatic invertebrates, and waste particles found in the sand into their digestive tract.  What goes in, must come out.  That's where it becomes interesting.
Sea cucumbers breathe by dilating their anal sphincter to allow water into the rectum, where specialized organs referred to as respiratory trees (or butt lungs) extract the oxygen from the water before discharging it back into the sea.  Several commensal and symbiotic creatures (including a fish that lives in the anus, as well as crabs and shrimp on its skin) hang out on this end of the sea cucumber collecting any "leftovers".
But, the ecosystem also benefits.  Not only is excess organic matter being removed from the seafloor, but the water environment is being enriched.  Sea cucumbers' natural digestion process gives their feces a relatively high pH from the excretion of ammonia, protecting the water surrounding the sea cucumber habitats from ocean acidification and providing fertilizer that promotes coral growth.  Also, the tiny bones within the sea cucumber form from the excretion of calcium carbonate, which is the primary ingredient in coral formation. The living and dying of sea cucumbers aids in the survival of coral beds.
When disturbed, sea cucumbers can expose their bony hook-like structures through their skin, making them more pickle than cucumber in appearance.  Sea cucumbers can also use their digestive system to ward of predators.  To confuse or harm predators, the sea cucumber propels its toxic internal organs from its body in the direction of the attacker.  No worries though.  They can grow them back again.
Hurricane Sally washed the sea cucumbers ashore so you could learn more about the creatures on the ocean floor.  Continue to explore the Florida panhandle outdoor.