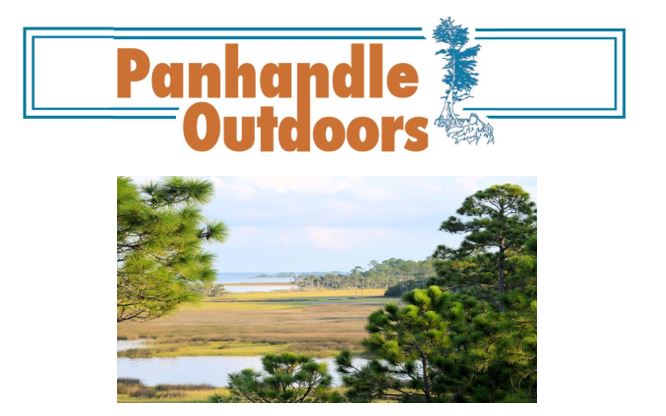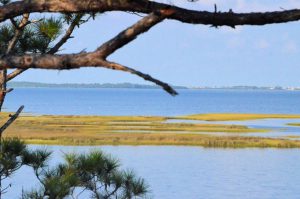 The University of Florida/IFAS Extension faculty are reintroducing their acclaimed "Panhandle Outdoors LIVE!" series. Conservation lands and aquatic systems have vulnerabilities and face future threats to their ecological integrity. Come learn about the important role of these ecosystems.
The St. Joseph Bay and Buffer Preserve Ecosystems are home to some of the one richest concentrations of flora and fauna along the Northern Gulf Coast. This area supports an amazing diversity of fish, aquatic invertebrates, turtles, salt marshes and pine flatwoods uplands.
This one-day educational adventure is based at the St. Joseph Bay State Buffer Preserve near the coastal town of Port. St. Joe, Florida. It includes field tours of the unique coastal uplands and shoreline as well as presentations by area Extension Agents.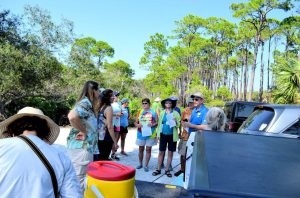 Details:
Registration fee is $45.
Meals: breakfast, lunch, drinks & snacks provided (you may bring your own)
Attire: outdoor wear, water shoes, bug spray and sun screen
*if afternoon rain is in forecast, outdoor activities may be switched to the morning schedule
Space is limited! Register now! See below.
Tentative schedule:
All Times Eastern
8:00 – 8:30 am Welcome! Breakfast & Overview with Ray Bodrey, Gulf County Extension
8:30 – 9:35 am Diamondback Terrapin Ecology, with Rick O'Connor, Escambia County Extension
9:35 – 9:45 am Q&A
9:45- 10:20 am The Bay Scallop & Habitat, with Ray Bodrey, Gulf County Extension
10:20 – 10:30 am Q&A
10:30 – 10:45 am Break
10:45 – 11:20 am The Hard Structures: Artificial Reefs & Marine Debris, with Scott Jackson, Bay County Extension
11:20 – 11:30 am Q&A
11:30 – 12:05 am The Apalachicola Oyster, Then, Now and What's Next, with Erik Lovestrand, Franklin County Extension
12:05 – 12:15 pm Q&A
12:15 – 1:00 pm Lunch
1:00 – 2:30 pm Tram Tour of the Buffer Preserve (St. Joseph Bay State Buffer Preserve Staff)
2:30 – 2:40 pm Break
2:40 – 3:20 pm A Walk Among the Black Mangroves (All Extension Agents)
3:20 – 3:30 pm Wrap Up
To attend, you must register for the event at this site:
https://www.eventbrite.com/e/panhandle-outdoors-live-at-st-joseph-bay-tickets-404236802157
For more information please contact Ray Bodrey at 850-639-3200 or rbodrey@ufl.edu