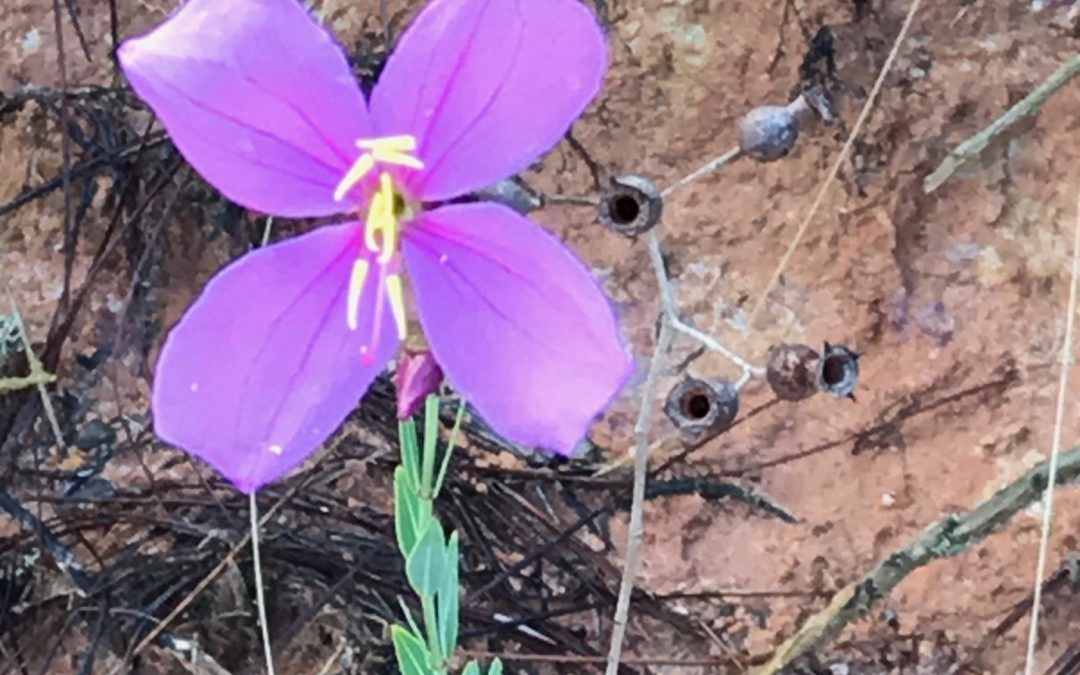 Have you noticed the beautiful pink flowers in the meadows near the woods?  That's what many early explorers of Florida may have said, which lead to the common name of Rhexia spp.  Meadow beauty (Rhexia spp.) is a Florida native found in mainly moist habitats, including flatwoods, wet meadows, marshes and savannas.  Rhexia species are herbaceous perennials that flowers from late spring to fall, going dormant in winter.  The simple leaves are simple and oppositely arranged.  The flower has four petals, four sepals and eight long, bright orange-yellow stamen with curving anthers on the end.  The light pink flowers face outward on a 1-2 feet tall stack, each one measuring about an inch across.  The unique shape of the stamen and anthers suggests that the Rhexia species are buzz pollinated.
Buzz pollination or sonication is a technique used by some bees to release pollen which is firmly held by the anthers. The anthers of buzz-pollinated plant species are typically tubular, with an opening at only one end, and the pollen inside is smooth-grained and firmly attached. In order to release the pollen, the bees grab onto the flower and move their flight muscles rapidly, causing the flower and anthers to vibrate, dislodging pollen. Honeybees cannot perform buzz pollination.   Only about 9% of the flowers in the world are primarily pollinated using buzz pollination.  So, meadow beauty is not just pretty, it has a unique connection with native bees.
Meadow beauty grows in full sun or partial shade.  The plant can reproduce by seeds and underground rhizomes.  Rhexia spp. are also a tasty treat for deer as they graze in the meadow.  The flowers don't last long and can't handle being touched.  In Greek, Rhexia means "breaks".  So, enjoy them as you walk through the woods, but leave them for the bees rather than picking them.