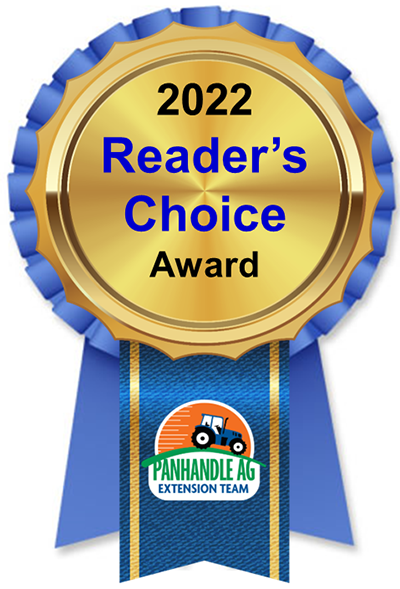 The Panhandle Ag Extension Team would like to thank our email subscribers and social media followers for your interest and support of Panhandle Ag e-News in 2022.  Keep sharing those emails, posts, and tweets to help us spread the word, so more farmers and ranchers sign up for this service.  The Panhandle Ag e-News project began in 2012. Over the past 11 years, 2,365 articles have been published that are searchable by topic area, keyword, author, or by using the search box provided at the top right-hand corner of the website.
In 2022, the Panhandle Agriculture Extension Team was made up of 21 county agents and 21 state specialists that serve the agricultural industry in Florida.  This team published 217 articles that provided timely information to farmers and ranchers related to farm management, pest management, best management practice recommendations, interesting videos, plus numerous announcements of educational events and assistance programs.  In 2022, links to the most recently published articles were shared through 41 weekly electronic newsletter issues (emails) to 5,527 subscribers, as well as through Facebook and Twitter Accounts.   There were 933 new subscribers added to the database in 2022, a 20%  increase from 2021.
–
Reader's Choice Awards
At the start of each year, the statistics are compared for the articles that were published on the Panhandle Ag e-News website over the previous year, with the authors of the most popular articles given recognition with Reader's Choice Awards.  There were a number of the articles that were very popular this year, but there were several that really stood out. The following are the top 30 most popular articles published by our author team members in 2022.  Congratulations to the following authors for putting together excellent information and practical recommendations.
–
1st Place
Mark Mauldin, Washington County Extension,  had the most popular article published in 2022.  His article, published May 10, discussed the issues of producing or purchasing hay with high fertilizer costs and with forage quality with reduced fertilization rates. – 2,210 page views
–
2nd Place
Josh Freeman, Vegetable Specialist, Sudeep Sidhu, Regional Specialized Extension Agent, Water Resources, Barry Tillman, Professor of Agronomy, Peanut Breeder, and Mathews Paret, Associate Professor of Plant Pathology provided a tribute article to Arnie Forrester, a prominent Panhandle farmer, who tragically lost his life in a vehicle accident. – 1,365 page views
–
3rd Place
Jennifer Bearden, Okaloosa Extension, responded to questions regarding the use of liquid lime to save money on amending the soil to raise the pH. – 1,291 page views
–
Honorable Mention
João Bittar, Large Animal Clinical Sciences, College of Veterinary Medicine, & Juan M. Campos Krauer, Wildlife Ecology and Conservation. Cervidae Health Research Initiative. University of Florida discussed key management practices for using vaccines to protect livestock health. – 1,215 page views
–
Other popular articles written in 2022 included:
–
–
–
–
–
–
–
–
–
–
–
–
–
–
–
19 – Cool-Season Forages – A Pasture Perspective for 2022 – Ann Blount, Marcelo Wallau, Esteban Rios, Joe Vendramini, Jose Dubeux, Ali Babar, Kevin Kenworthy and Ken Quesenberry, UF/IFAS Agronomy Department– 374 views
–
–
–
–
–
–
–
–
27 – Southern Rust Identified in Corn – Be Vigilant & Scout – Ethan Carter, Regional Crop IPM Agent, Ian Small, UF/IFAS NFREC Plant Pathologist, and Nick Dufault, UF/IFAS Extension Pathologist – 314 views
–
–
–
The top 10 Featured Videos of 2022
In addition to the articles shared each week, a short YouTube video was shared under the title of "Friday Features."  In general, these videos related to some form of agricultural issue, farming techniques, new innovative tools and equipment, or farm humor.  The following were the top 10 videos shared in 2022:
–
–
–
–
–
–
–
–
–
–
–
You might want to scan through the complete library of 246 videos in the  Friday Feature Archive.  If you come across an interesting, inspiring, humorous or something new and innovative related to agriculture, please send in a link, so we can share it with our readers.  Use the share button from the YouTube or Facebook video you like and send the link via email to:  Doug Mayo
Latest posts by Doug Mayo
(see all)