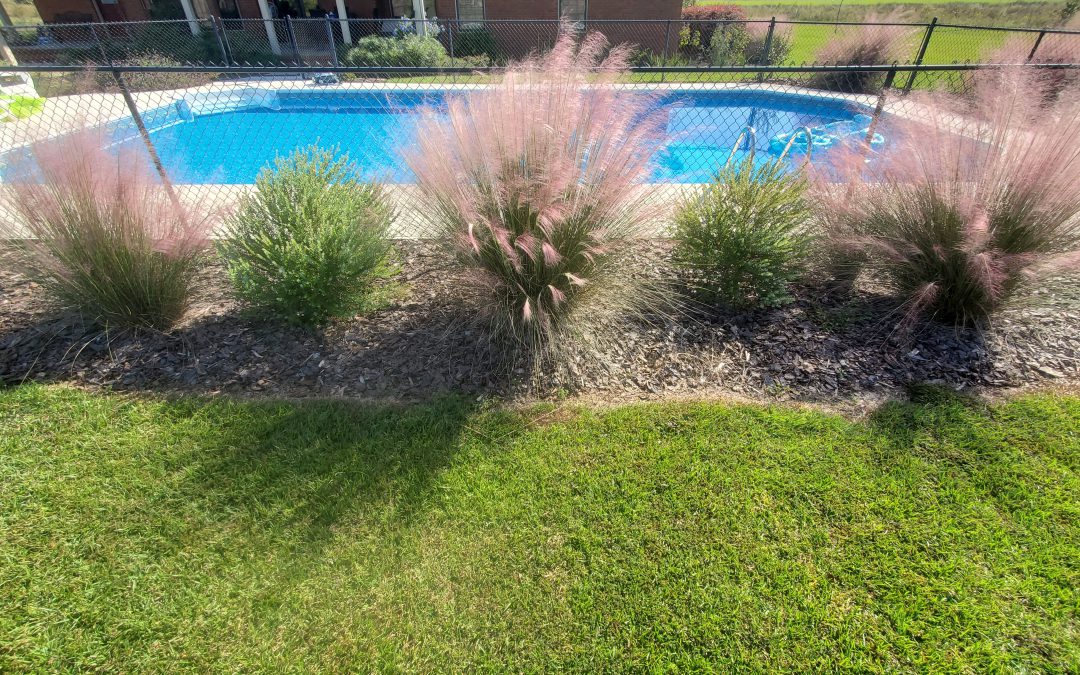 In the Panhandle, fall is the prettiest season for wildflowers.  Our roadsides and woodlands are covered with pinks, whites, yellows, blues, purples, and even a little red here and there.  Pretty as it may be, the beautiful wildflower look isn't super appropriate for most yards.  It would look unkempt, a little "wild" if you will, would be hard to manage and is probably best enjoyed in natural areas.  However, we can bring some of the native colors of fall into our landscapes in a much lower maintenance, refined manner with two Panhandle species that pair excellently together, Muhly Grass (Muhlenbergia capillaris) and Darrow's Blueberry (Vaccineum darrowii).
Muhly Grass, the native grass with the pinkish/purple panicles blooming right now, has gained much popularity in recent years, earning a reputation as a near pest/disease free, drought tolerant, attractive landscape plant.  Operating in lieu of more traditional low growing shrubs in landscapes, Muhly is an airy, greenish gray bunch grass growing about 3-4' tall and wide, lending informal, coastal texture to landscapes most of the year and really shining in fall during its flowering season.  Once established, it never needs extra water, prefers little fertilizer, and only needs a rejuvenation prune (or burn – the Leonard preferred method.  It's fun and mimics the role of fire in Muhly's native ecosystems!) every couple of years to keep it looking tidy.
Unlike Muhly Grass, Darrow's Blueberry has not caught on broadly in the landscape industry but is no less deserving.  This native blueberry species only grows a couple of feet tall, produces edible fruit that wildlife enjoy, and adds an unusual blue green color to landscapes via its tiny-leaved, evergreen foliage.  It prefers the same sites as Muhly and is part of the reason they pair so well together.  Our mostly sandy, well drained soils work just fine, but both plants can handle soils that are occasionally wet.  A bonus, Darrow's also has tiny, bell shaped flowers in spring that attract all manner of beneficial bee species.  This makes it a must in any native pollinator garden!
As good as these species are alone, I think they are better together.  In my family's yard, we created a loose screen of widely spaced (8' apart) Muhly Grass specimens around a pool, in the spirit of giving the area a "coastal" airy feel, and interspersed Darrow's Blueberry in between.
The look has been outstanding, particularly in the late summer/early fall.  The pinky purple flowers of Muhly Grass complement the green-blue foliage of the blueberries nicely and provide easy, lasting color without having to worry about planting finicky annuals or perennials each season.
Landscaping with natives does not have to look wild and unkempt, nor does it have to be drab and unattractive.  Combining native yet showy plants like Darrow's Blueberry and Muhly Grass makes for an unusual, refined, nearly no-maintenance feature in your landscape.  Look for these and other neat native plants at native nurseries and independent garden centers around the Panhandle.  If you'd like more information on native grasses, blueberries or any other horticultural topic, please contact your local UF/IFAS County Extension Office!  Happy Gardening!