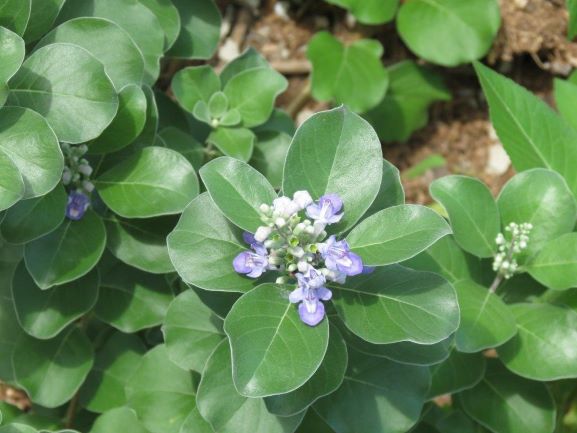 One of the biggest problems with beach vitex (Vitex rotundifolia) is its beauty. It has rounded, deep green leaves (with a silvery gray cast) and a beautiful little lavender-purple bloom. Like most weedy invasive plants, the plant was imported and sold as an ornamental groundcover for many years. Homeowners and landscapers planted it in coastal areas where it is well adapted to the salt and heat, and no one realized it would be so problematic. Ever since, beach vitex took root and has continued growing, unchecked, throughout the coastal south.
North and South Carolina started having big issues first, when beach vitex was planted deliberately to stabilize sand dunes after hurricanes. Soon after, a coastal restoration specialist with the Army Corps of Engineers realized the mistake. The vines run along the ground in such thick mats that native vegetation like sea oats can be choked out. The wide-spreading fibrous roots and tall profile of sea oats hold sand in place better than the beach vitex's low growth and taproot, which have long term consequences for maintaining dune stability. The thick tangle of vitex growth is yet another obstacle for hatchling sea turtles in a long list of man-made problems that has made nesting and reproduction difficult.
Eradication of the noxious weed has proved difficult. When a plant gets the nickname, "beach kudzu," you know something went seriously wrong. Beach vitex produces millions of seeds in late summer and early fall, which are dispersed by wind, birds, and float over water. Unless removed before going to seed, even a small patch of the vine can expand rapidly. While not as prevalent in Florida, over 80 sites have been identified in the western panhandle with beach vitex. Due to these problematic issues, the plant was recently added to the Florida Noxious Weed and Invasive Species List, making it illegal to sell, grow, move, or release the plant.
To learn more about how to identify, report, and remove beach vitex, visit www.eddmaps.org or contact Rick O'Connor at roc1@ufl.edu.